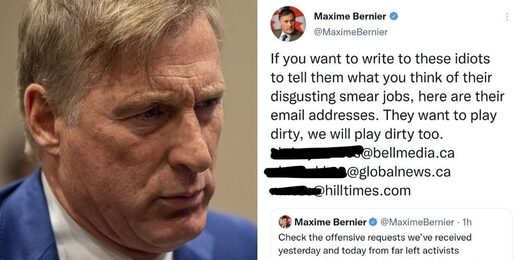 "They want to play dirty, we will play dirty too."
People's Party leader Maxime Bernier publicized the emails of three journalists Tuesday after they contacted the party email to ask questions. In a now-deleted tweet, Bernier says, "If you want to write to these idiots to tell them what you think of their disgusting smear jobs, here are their email addresses."
"They want to play dirty, we will play dirty too," said Bernier prior to posting the emails.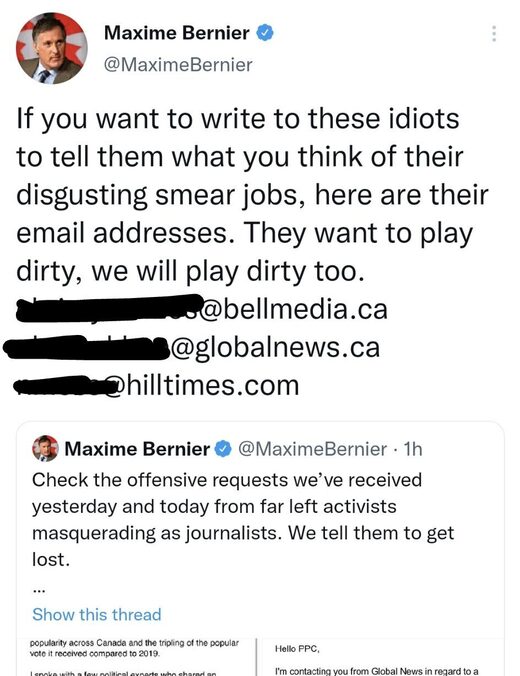 In response to Bernier's tweet, the Canadian Association of Journalists said, "Journalists have a legal and ethical obligation to send questions and request comment from our politicians. Going after them for doing their basic duty is unacceptable and dangerous behaviour."
As a result of Bernier's tweet, Christy Somos, a CTV journalist, received hate mail.
"I just wanted to wholeheartedly express how much I hope that all propagandists like you get brutally raped before being lynched and strung up from the nearest study tree or lamp post," says an email sent to Somos "You are a traitor to your nation and your people. Remember, kill the traitors before the enemy."
Twitter Canada removed the three posts after 11 pm Wednesday and Bernier's account was frozen for 12 hours.
"We've taken enforcement action against the account you referenced for violating our private information policy," Cam Gordon, the head of Twitter Canada's communication team, told
VICE World News
.
Despite doubling their 2019 results, the PPC won zero seats on election night. Maxime Bernier also lost his third consecutive election.