Comment: No, you're not dreaming, this isn't a spoof article, nor is it fake news. This is your world today...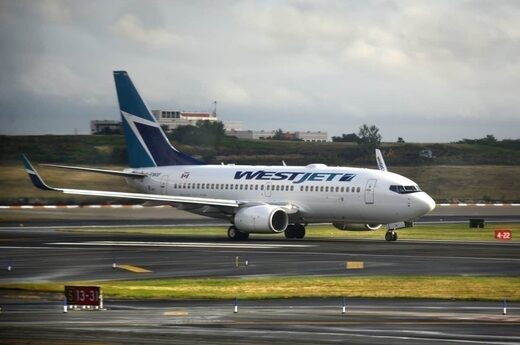 'It's unlike anything I have ever witnessed, let alone experienced,' says father of two.
A WestJet flight in Canada was cancelled on Tuesday after a dispute broke out about children wearing masks.
Safwan Choudhry was travelling from Calgary to Toronto with his wife and two daughters,
aged 19 months and three years old
, when the incident occurred.
Just before take-off,
a flight attendant approached the family and demanded that his three-year-old daughter, who was eating a snack, put on her mask
, according to Choudhry.
He
told the BBC
that, when he asked if his child could finish her snack first, he was informed that the airline has a "zero tolerance policy" and would not close the aircraft door until she was masked.
Choudhry agreed and said he managed to get his eldest daughter to wear a mask after some fussing.
However, he said his 19-month-old was having "a very difficult time" and was so "hysterical" that she vomited when they tried to put a mask on her.
Cabin crew were aggressive, claims Choudhry, and told the family they would have to leave the flight because their youngest child refused to wear a mask.
"It's unlike anything I have ever witnessed, let alone experienced," he said.
The family eventually agreed to leave, according to Choudhry, but by that point the situation had escalated to the point that WestJet says staff no longer felt safe, with other passengers speaking up to defend the Choudhrys.
"Due to the rapid escalation of the situation on board, our crew felt uncomfortable to operate and the flight was subsequently cancelled," a spokesperson from WestJet told
The Independent
.

Comment: Felt unsafe... More likely wanted to exert authority and punish dissenters.


The airline disputes the allegation that the family was kicked off due to their youngest child not wearing a mask - according to Canadian transportation policy,
children under two are exempt.
"Due to non-compliance of the parents to place a mask on their older child who is over the age of two, our crew informed the adults of the regulations we are required to follow," said WestJet.
"Our crew requested the presence of the authorities after the guests refused to comply with Transport Canada's interim order and subsequently refused to deplane the aircraft."
They added: "It is important to clarify that WestJet did not request the infant under the age of two to wear a mask. These guests were travelling on employee buddy passes offered through our employee travel privileges, not on a purchased ticket, and are accountable for their behaviour on WestJet aircraft. They did not comply after multiple requests."
However, video taken with Choudhry's phone shows his three-year-old wearing a mask on the aircraft after police had boarded.

Comment: Even now the company is lying through its teeth.


Another video, seen by the BBC, shows a police officer admitting that, although the issue with the child wearing a mask was "resolved", "the behaviour of the other passengers left the rest of the crew feeling unsafe".

Comment: They're lucky they didn't get a severe beating.


The Choudhrys are still in Calgary and have not been offered an alternative flight at the time of writing.
"So many people were put through so much grief because of a lack of understanding on part of the policy," he said.