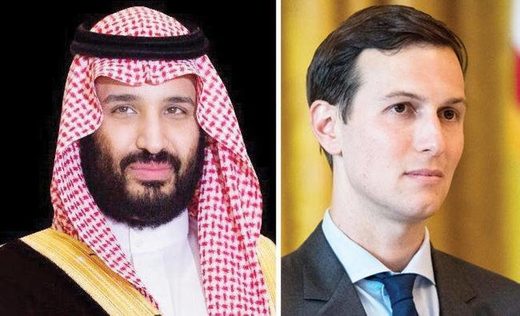 Once again my best House of Saud-connected source RE-CONFIRMED Mohammed Bone Saw (MBS) received direct info on CIA assets in Saudi Arabia from his close whatsapp pal Jared of Arabia.
Jared could only have access to this top secret info because of his high clearance. That led to the Ritz-Carlton jail saga - and other arrests.
The CIA protégé Mohammed bin Nayef - who was previously made Crown Prince by the CIA itself - was also arrested and is still under house arrest. The CIA was grooming Nayef be King.
The CIA managed to elevate Nayef by plotting to get rid of Bandar Bush - who was fired by then King Abdullah. When King Abdullah died, Nayef continued to be Crown Prince until ousted by the new King Salman bin Abdulaziz to the benefit of his son.
Big mistake.
MBS moved against the clergy - who had been neutralized by Nayef. He moved against CIA friends, ousting former King Abdullah's son Prince Miteb as head of the powerful National Guard - who's after his blood ever since.
Crucially, Khashoggi was also CIA.
MBS ordered the invasion of Yemen - and turned large sectors of the army against him. He met with AIPAC in New York, befriended Israel and turned the bulk of the Saudi population against him.
Only misinformed simpletons believe that the Pulp Fiction in Istanbul op could have proceeded without his green light. Hubris, arrogance and inter-galactic ignorance are MBS's trademarks.
What kind of intel op does not know that Turkish secret police would be monitoring the Saudi embassy 24/7?
The Coward Prince, meanwhile, has had ample time to find not one but TWO fall guys.
Fall Guy Number One is Gen. Ahmed al-Assiri, deputy head of Saudi intel (yes, that's an oxymoron), a senior air force officer with NO (very important) family connections to the Saudi two-bit royals.
Fall Guy Number Two is Saud al-Qahtani, who was a sort of Desert Grand Inquisitor - totally controlling the media and supervising the non-stop purge of any critics. Call him the Saudi Steve Bannon - as he was known in Qatar. He led a mighty troll army spreading fake news on the murderous war on Yemen, the pathetic blockade of Qatar and non-stop demonization of Iran.
Turkey for its part has masterfully deployed Death by a Thousand Leaks on MBS.
Now the whole planet knows the detailed description of the 15-men hit squad; pics of all of them; their role in the "mission"; arrival and departure flights; which hotels they stayed for a few hours.
The hit squad includes the Bone Saw Master; four intel ops; 6 Royal Guard members; a member of MBS's personal guard; and a free agent.
Compared to all this evidence, the official "fist fight" Saudi explanation as well as the Jared of Arabia-spun "rogue killer" spin are inter-galactic jokes designed for suckers.
What remains unexplained is whether MBS was striking some sort of dodgy deal with the Trump administration, via his best pal Jared, behind the back of his House of Saud many rivals. Consul Pompeus Minimus was on the phone to MBS immediately after the Pulp Fiction news broke out. This could well turn out to have been a double-double cross.