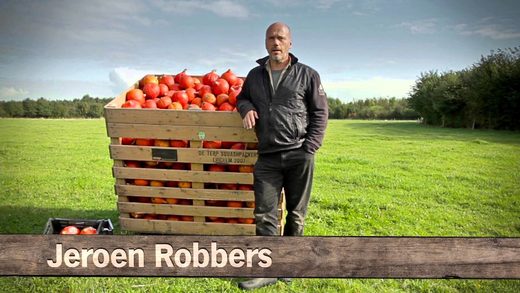 Jeroen Robbers, De Terp Squashpackers: "Dutch pumpkin harvest starts three to four weeks earlier" The Dutch pumpkin season started early this year. "We started a week ago out of necessity. That's three to four weeks earlier than normally. We've now noticed that the number of kilos per hectare is
20 per cent lower than average
," says Jeroen Robbers of De Terp Squashpackers.
The Dutch company grows and trade organic 'classic' orange pumpkins, but also a few specialities, including the green, grey, spaghetti and mini-pumpkin. "We personally grow on 20 hectares, and in total we have 170 hectares in contract programmes, of which we grub up 100 hectares ourselves. About 80 to 90 per cent consists of the orange pumpkin, and the rest is specialities." De Terp supplies to Bakker Barendrecht on contract, and also does their own importing and exporting of pumpkins. The Dutch season lasts from late July to February, and the company then starts to import mainly from Argentina and New Zealand, so that they have year-round supply.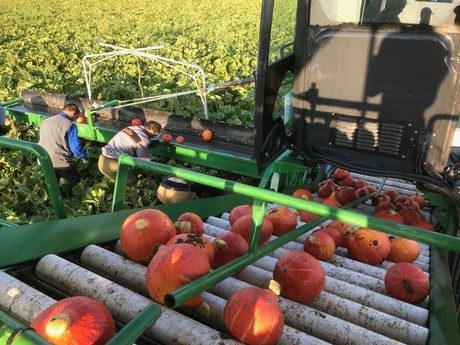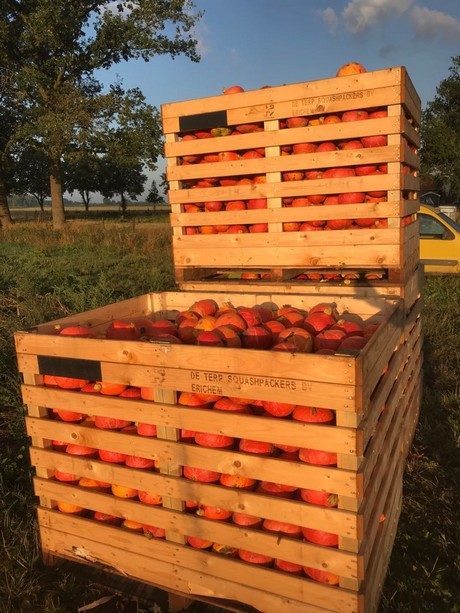 This isn't the first extreme year for the pumpkin production. Jeroen: "This is the third extreme year.
Two years ago we had a wet spring and a hot summer, so that

our yield was 60 per cent.

Last year we had a 130 per cent yield. We now expect to harvest about 80 per cent of the average."
What does he expect of prices? "We'll have to wait and see this year. Turnover is low at the moment, because it's the holiday period, when consumption is lower. Last year, prices were late until late in the season, because of the large surpluses. I now expect a good market and less supply."
Within the pumpkin production, a lot has changed in recent years. "In the past 20 years the pumpkin market grew enormously. It used to be a relatively unknown product, but it's now growing, both in supermarkets and in trade." There's a lot of competition as well, because the area of conventional growers is increasing. The company also works with a rising number of growers.
So although the product is growing, Jeroen has also noticed much is still unknown. "Not all supermarkets sell year-round, and knowledge about flavour and quality hasn't been very developed yet either. These are the areas to be distinctive in. We've noticed many growers still don't know much about the enormous quality differences. We could sell anything that's orange, but the pumpkin family is enormous. We sell quality varieties with high brix and dry matter contents. This is an important distinction, because pumpkins aren't interchangeable."
For more information:

Jeroen Robbers De Terp Squashpackers B.V.Lutterveld 2a4117 GV Erichem, the Netherlands+31 (0)344 682 009info@cvdeterp.nlwww.cvdeterp.nl