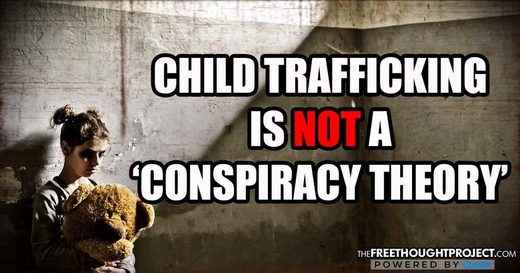 A massive sting operation carried out by the FBI in metro Atlanta captured dozens of child traffickers and rescued 160 children who had been forced into sex slavery by their captors. This news comes as Snopes and the other ostensible arbiters of truth distort information claiming that similar trafficking is taking place in Arizona.
Illustrating the massive scope of the sting, called Operation Safe Summer, it was a collaborative effort between the FBI and 38 other law enforcement agencies from six metro counties.
"They are crimes of special concern to the FBI and to law enforcement generally," Special Agent in Charge Matt Alcoke
told Channel 2.
"Because the victims are so vulnerable as children and because the offenders could be from just about any walk of life, from a gang member all the way up to
someone who is highly successful and wealthy."
"It's important for those of us who are responsible for the children, the parents, the guardians, the older siblings, to not let children fall away (from) those strongly centered circles of importance," Alcoke said.
This case illustrates how sinister and outright dangerous it is for the supposed arbiters of truth like Snopes, to immediately write off any allegations of child trafficking as "conspiracy theory" and fake news.
"A lot of people don't realize these things happen here," department spokesman Howard Miller said. Indeed, they do not realize it, and the
mainstream media often seems like they are in denial
when it comes to the severity of child trafficking happening within the United States.

Comment: The mainstream media understands its priorities - don't bite the hand that feeds you:
This sting comes on the heels of a controversial topic out of Tuscon, Arizona in which a group of veterans claims to have discovered a child trafficking camp on property belonging to Cemex.
Snopes attempted to
debunk the story
by claiming that the Free Thought Project said that the area
was
a child trafficking camp. However, we did not. We merely reported what the veterans group said as these allegation most assuredly deserved scrutiny. In our report, we noted that it could also be a homeless camp.
However, because Snopes
falsely accused
this outlet of spreading fake news, the story has been scrubbed from Facebook and the thousands of users who shared the story-which could've helped to expose child trafficking-received a notification like the one below, warning them that they have shared something false.
Snopes-whether deliberately or not-is actively engaging in censorship of content that could actually help children by engaging others and fostering discussion. Instead of allowing the discussion to continue,
Snopes deliberately shut down the conversation
, insuring that the very important topic of child trafficking is forced into the memory hole and never heard of again.
Comment:
Snopes official mandate
is
to shut down any conversation that endangers the status quo and its 'fact checkers' are questionable at best:
Mouthpiece for the status quo: Snopes outed as unfit to arbiter truth
.
Snopes was created in 1995 by Barbara and David Mikkelson to explore the truth and fiction behind myths and urban legends (see video above). According to the Daily Mail's investigation into the company, the couple posed as "The San Fernardo Valley Folklore Society" when they first started - a society that, in fact, does not exist as a legal entity.

David has admitted they created the fake society, with official-looking stationary and all, "to help make the inquiries seem more legit." The Mikkelsons divorced in 2015, but are still locked in a heated legal battle over corporate and private funds. Barbara claims David embezzled $98,000 of company money, allegedly spending it on "himself and prostitutes," and used corporate funds for his personal use, including attorney's fees, without consulting her.

Who Are Snopes' Fact-Checkers?

According to the featured report, David's new wife, Elyssa Young - a former escort, self-proclaimed "courtesan" and porn actress who ran for Congress in Hawaii as a Libertarian in 2004 - is now employed as a Snopes administrator. Despite that, David claims Snopes still has no political leanings.

Young is also said to maintain a website that offers her escort services, although "it is unclear if she is still working as one," the Daily Mail notes. Another former sex-blogger known as "Vice Vixen" (real name Kimberly LaCapria) is one of Snopes' main contributors.

According to her blog - which she describes as being focused on "naughtiness, sin, carnal pursuits and general hedonism and bonne vivantery" - she has performed her Snopes duties while smoking pot. In all, Snopes is said to have six employees "scattered across the U.S."
See also:
Snopes Snoped: Fake news arbiter accused of defrauding site to pay for prostitutes, embezzlement
As the above case illustrates, child trafficking is a horrifying reality. While Pizzagate scenarios may not be real, there are far worse incidents taking place across the country.
It is no longer a secret that throughout all levels of the Hollywood establishment there is rampant sexual abuse. This abuse is also rampant throughout government. It has become such a problem that
millions of your tax dollars are funneled to cover it up.
Sadly, it appears, that the more monsters who get exposed for crimes against children, the more society-with the help of the mainstream media-become complacent about this reality.
The idea that someone could easily dismiss the allegations of rampant child trafficking among America's elite as a conspiracy theory is irresponsible at best, and complicit at worst.
On multiple occasions, the Free Thought Project has reported
interviews
of former
child sex trafficking victims
who've all noted that they had nowhere to go as police and high-level politicians all took place in the abuse.
In case after case, the Free Thought Project reports on horrifying instances of child sex rings that
were allowed to go on for decades because politicians -
including heads of states
- policemen, clergy, and others were all in on the sick game.
This can no longer go on. In an article after the Hollywood scandal blew up last year,
The Huffington Post
wrote that "Since Harvey Weinstein's downfall, we as a society have apparently decided to try this radical new idea called 'believing women.'"
Well, how about we, as a society, start believing children too-and stop dismissing every claim of child trafficking as a conspiracy theory without first being able to have a rational discussion about it?
Until this happens, predators in high places will enjoy the lack of scrutiny and these 'arbiters of truth' will be inadvertently aiding in the cover up of their crimes.
UPDATE:
Since this story originally published, people have contacted us to ask what these stories have in common. The commonality is merely questioning facts, that is all. To prove the point of how important it is to question facts, just after Snopes called us fake news for reporting on what these veterans were doing, they found compelling evidence of children being harmed.
According to police, they brought through cadaver dogs. Well, according to a recent post by VOP, their expert dogs missed at least one cadaver. Thursday afternoon, VOP posted a video of what they are calling a child's remains on their Facebook page.
The team finds the child's remains around the 10 minute mark in the video below.
We will be waiting for Snopes to update their story.