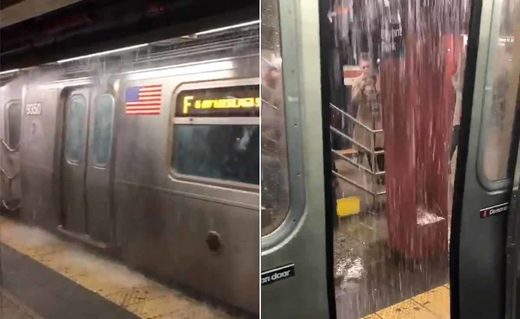 Normally the labyrinthine New York City subway system can be counted on for shelter from the rain at the very least.
For many commuters, however, heavy rain sent water flooding into the subway system itself to start the week -- and in full torrents rather than just the occasional drip here and there
"As happens during heavy storms like today's, water is entering some stations from the street. We're sending emergency maintenance teams and customer service staff to locations where they're needed," subway administrators tweeted Monday morning.
Monday's rain is part of a system that has
brought snow, freezing rain and heavy rain across much of the Northeast and Midwest
. New York City was under a flash flood warning until the early afternoon, followed by a flood advisory.
The subway flooding became so severe that trains on some routes bypassed some stations for a time Monday. Below is a sample of what subway riders had to endure for their morning commute.