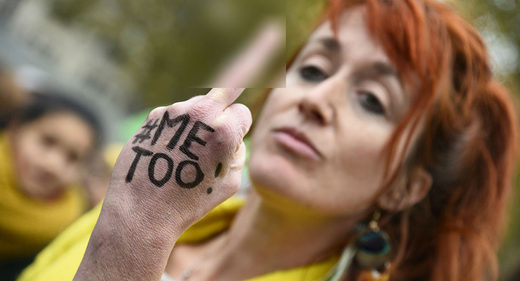 In late 2017, all of Scandinavia was deeply shaken by the outbreak of the anti-harassment #MeToo movement focusing on women's rights and embracing all spheres of life. According to a Danish psychologist, though, the women's movement has rather become a tool in the perennial battle of the sexes.
In a searing
opinion piece
, where he shared his reflections on the balance of genders and the way it affects society, Danish psychologist and therapist Finn Korsaa has
compared the
#MeToo
movement with the Nazi Gestapo in a way that it helps to enforce a certain ideology.
"The issue of women's quotas in corporate boards has long been like a hot potato. But how come no one insists on changing the significant overrepresentation of female psychologists? And why do we never ever hear demands for more men in the role of nurses?" Korsaa wrote in the Berlingske daily, suggesting that the so-called "equality efforts" go deeper than balancing the gender situation in the labor market and government bodies.
Korsaa ventured that men in our time get ridiculed and subjugated to women's authority, who feel that the power of men is increasingly irrelevant, a belief reinforced by the feminist-humanist state.
When the male values ​​are currently discredited, this is due to the two major "patriarchal" mass movements, Nazism and Communism that ravaged the 20th century, Korsaa ventured. As both were ultimately overcome by democracy, this created
an ideological reaction in a form of a "feminist offensive" that demonized all the masculine values.
"We have therefore come from one extreme to another. Where the Nazis had Gestapo and the Communists had the KGB, modern feminism has its own 'home guard,' in the form of the #MeToo movement and social justice warriors, who with their moral imperative seek to ensure that feminine values can maintain their monopoly through moral and political correctness," Korsaa wrote.
Korsaa argued that equality is itself a female value, suggesting that the equality efforts of late go deeper than balancing the gender situation on the labor market. According to Korsaa the idea that all people are equal and that no difference should ever be made has become a sort of a moral guideline in a modern-era re-enactment of the so-called "Jante Law," a description of a group behavior pattern, in which
the role of the individual gets diminished and those who try to stand out through personal achievements are seen as unworthy or inappropriate.
This term, embodied in 10 "commandments," such as, "You shall not think you're something special," was coined by Dano-Norwegian author Aksel Sandemose and is seen as the epitome of a deeply collectivist mentality.
The masculine values, by contrast, consist of protection, struggle, action and a reasonable hierarchy. These are best expressed by men who sacrificed themselves during the Titanic catastrophe in 1912 to let women and children survive,
Korsaa argued. Modern young men, however, feel odd and wrong when their natural urge for competition is met with contempt.
"Fortunately, you have computer games, and you can also unfold your match instinct on, for example, the football pitch, where the match does not end in a funeral," Korsaa wrote.
Paradoxically,
the idea of a fully equal "feminist" culture, Korsaa suggested, does everything in its power to prevent boys from developing into adult men. They end up immature and insecure
, which, in turn, may result in aberrant behavior, against which the #MeToo movement stands up, he summarized
.
Korsaa
became a master of psychology at the University of Copenhagen and is currently a privately practicing psychologist. He has authored several books and writes columns and opinion pieces for the major Danish daily Berlingske.