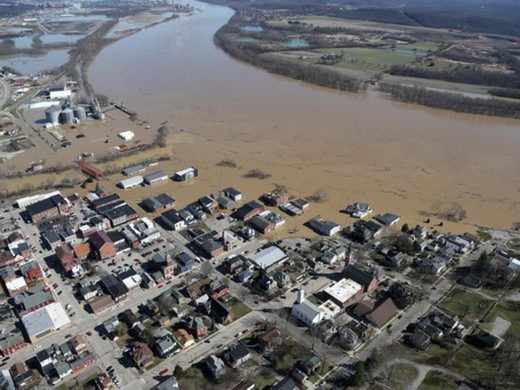 The Ohio River has started to recede but floodwaters might stick around until Saturday.
"This event is not over," Hamilton County Emergency Management and Homeland Security Director Nick Crossley told county commissioners Monday.
The Ohio River has been dropping from its peak of 60.53 feet Sunday night and is now below 60 feet.
But
rain predicted for Wednesday and Thursday will likely keep the river above flood stage until the weekend
, Crossley said.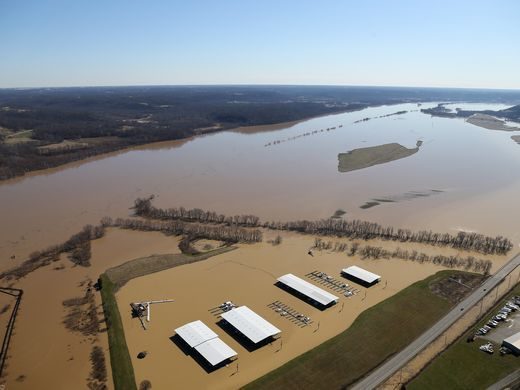 The Hamilton County Board of Commissioners
declared a state of emergency Monday morning effective for seven days
, opening property owners to possible U.S. Federal Emergency Management Agency assistance . Whether FEMA comes in will depend on how much damage the flood did, Crossley said.
The county
won't know the extent of the damage until river levels drop.
"We will not know a lot of what has occurred until water recedes," said Todd Portune, the president of the Hamilton County Board of Commissioners. "The water is not like bath water, you can't see through it. Floodwaters are a mess."
Portune recommended property owners take photos and videos of any flood damage. The protocol to follow for submitting a claim for government assistance will be posted soon, he said. He didn't say when and where it would be posted.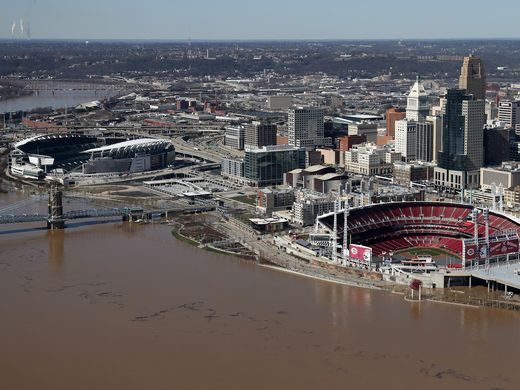 Sewage backups have beset Hamilton County, Crossley said.
The Metropolitan Sewer District has received 497 reports of backups
with 304 investigated and 119 confirmed for cleanup.
If damage is extensive enough, FEMA could be on the ground here by March 12, Crossley said.
New development since the 1997 flood has meant that the floodwaters didn't behave the same way as in 1997
, officials said Monday.
Floodwaters also inundated places far away from the Ohio River
, including Springfield Township and Fields Ertel Road.
The county will assess how to prepare for the next flood, Portune said.
"The flooding, and the sequence of the flooding they saw and the amount of flooding and where it took place, occurred in a different order and a different way," Portune said.