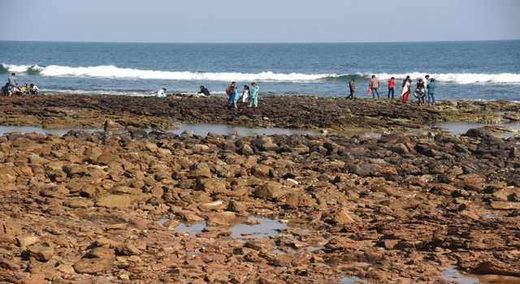 The visitors of Rushikonda beach had a different experience when the sea has receded to about 100 metres exposing all the sharpened stones here on Sunday.
According to fishermen, the ocean has receded as a result of the recent lunar eclipse, thereby, exposing the submerged pits and other material underneath. As there were no tides towards the western side of the beach, the visitors on Sunday enjoyed the evening at the seaside.
Rushikonda is one of the most popular beaches in Visakhapatnam, where thousands of people rush to the beach particularly during the week-ends. According to the scientists of the National Institute of Oceanography, there was nothing to panic when the sea recedes.
However, rumours spread out fast that a tsunami would be expected anytime. Some of the fishermen predicting that the city would be hit by something like a tsunami and the sea will be receded over 50 to 100 metres.
Speaking to
The Hans India
here on Sunday, scientists said that there was no technical evidence that the sea would recede before the tsunami. Due to the tidal phenomenon and the impact of the local winds, the sea and the blue waters would recede.
"There are several meteorological reasons for the receding of the sea. The tides will come close to the beach and the beach has eroded due to several reasons. Some of the huts of the fishermen were damaged and trees on the beach uprooted due to the heavy tides coming close to the beach.
Similarly, the blue waters will recede and the stones and others which have been submerged earlier could be seen. The blue waters will be affected again before and after the full-moon day," one of the NIO scientists said.