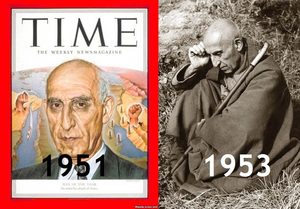 Mohammad Mossadegh, TIME Man of the Year, 1951 after he became the first democratically-elected PM of Iran. On 20 August 1953, he was overthrown in a CIA-MI6 coup and lived out his life under house arrest
Those who are able to see beyond the shadows and lies of their culture will never be understood, let alone believed, by the masses.
- Plato
Recent Comments
The title of the article should read : "The ongoing war on people.". S***t is the same everywhere.
---
Just because something is an "established historical fact" doesn't make it true.
---
Rephrasing : U.S./Israeli backed Syrian Jihadists...The more this world changes the more it stays the same. -1
---
So, that means that from now on the IDF will have to ask for permission from the supreme court before they murder Palestinians ? :P
---
Apparently cops are not yet aware of the difference. :P