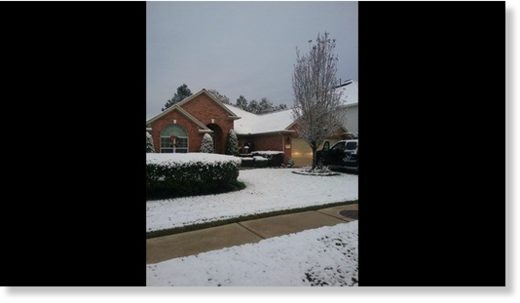 Say it ain't snow. It's not a dream or nightmare but reality: one of the biggest snowfalls in history just walloped the Texas gulf coast and has brought Houston to a crawl.
Mother Nature brought blockbuster amounts of snow to areas that only see it a few times per century - where even half melted flurries are enough to drive kids out of their minds with excitement. I'm not talking Dallas or Amarillo or Lubbock.
As of this entry, it is snowing and snowing heavily in, of all places, Brownsville, marking only the third time since 1895 they have received accumulating snowfall.
Not to be outdone, Corpus Christi got their first snowfall in 13 years and recorded
between five and seven inches of snow
. What's more absurd than that?
They reported a thunderstorm with heavy snow; in Corpus Christi!
That is extremely rare --- in Buffalo. To have it happen not once but twice would make even the Jim Cantore breathe into a bag.
It gets better...
College Station, 90 miles northwest of Houston, recorded five inches of snow marking an unusual milestone: having received more snow this winter so far than Minneapolis (three inches).
Houston, what is soon to be the third largest city in the nation, came to a slippery halt overnight. The city saw widespread snow amounts between 1 and 3 inches and recorded its first snowfall in eight years and received accumulating snowfall before New York City and Boston.
Not one but two snow records were set in Houston. Before midnight, officially 0.1" of snow fell at IAH setting a record for December 7th. The snow that accumulated after midnight totaled 0.6" setting a record for December 8th. In total, just shy of an inch fell officially in Houston.
Area freeways, known for their high flyovers and numerous interchanges became ice rinks causing several freeways, including the always gridlocked West Loop to be shut down
completely due to an accident that may have been caused by ice.
It is snowing. In Houston. #HoustonSnow #snow #houston #texassnow #txwx pic.twitter.com/k5r6QYLR9U- Michael Ciaglo (@MichaelCiaglo) December 8, 2017
Houston also had the fifth snowiest December day on record when the 0.7 inches fell at Bush-Intercontinental airport. The official snowiest December day on record is 2.5" back in 1929. It's important to remember that IAH is just one spot in a large metro area and many areas saw a good bit more than that.
The snow that fell in Houston Thursday also marked the second earliest snowfall ever recorded for the city.
Now granted these aren't New England style records so those who are reading this in Boston, Buffalo or Denver, try to keep the guffaws down to a quiet giggle. This is Texas after all and while it isn't so unusual here, marquee amounts are -- especially along the gulf coast.
There's an old adage around Houston that is well remembered by all locals that says "ever time Houston gets hit by a hurricane, it usually snows the following winter." While that is not accurate, there seems to be an undeniable correlation, even if not totally true.
It's also an interesting coincidence that when Houston last hosted the Super Bowl in 2004, the following winter the city recorded its first white Christmas and an incredible 13 inches fell in Brazoria county. Fast forward to 2017, Houston hosted Super Bowl 51 and has now been 'buried' with several inches of snow. Perhaps that's the stronger correlation?
Snow in Houston is not unheard of. In fact, as of today, Houston has just recorded its 36th snowfall since 1895, the year Houston had a blizzard that would make even those in Cleveland go "hmmm." Upwards of 20 inches fell on Valentines Day of that year.
However the snows are infrequent enough that it still rowels excitement to a frenzied pitch when the flakes begin flying in an area that is known for it's air-conditioners and stiffling humidity.
Few people are complaining. In a city that has been through so much, many people here, including your author, find it magical in every way. The oh's and ah's of kids and parents alike dancing in the streets well after midnight became common place in otherwise quiet neighborhoods on a school night.
The snow has now ended for the upper-Texas coast and will soon conclude in the valley as well. Regardless, the snowstorm of 2017 will long rage on in the minds of those who were here to witness this great white rain on the coastal plain.
UPDATE:

Strange Sounds collected some of the coolest pictures of the unusual event:

Texas is known for being hot, really hot. But now, it is snowing over there. Yes, Corpus Christi was covered in white for the first time in 13 years, almost 3 months day for day after being struck by Hurricane Harvey. After 8 years of rest, 1 - 1.5 inches of snow were measured at Houston-Galveston NWS office. Meanwhile, snow is also falling in northern Mexico.





Winter Storm Warning is in effect, keep an extra flashlight, food and water in your vehicle in case of an emergency. You might be getting stuck! Take care!
Comment:
The beginning of winter in the Northern Hemisphere is proving to be eerily similar to that experienced in the southern hemisphere recently being unseasonably quick and cold: