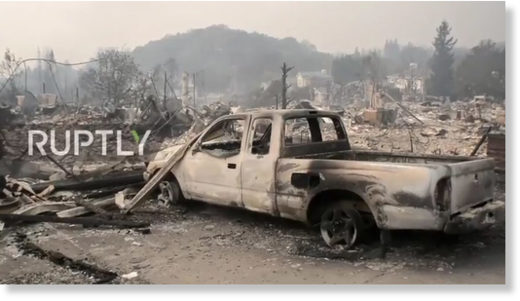 This October saw the continuing trend of deadly and record-breaking wildfires, massive rainfall, freak hailstorms and flooding and sudden powerful down-bursts wreak havoc across the planet.
Early October snow also surprised people from the US to China, while many others spotted meteor/fireballs streak across the sky, with one of the space rocks possibly starting a wildfire! The chaos came pretty close to home for one or two people who had seriously close encounters with lightning!
Check it out below, and thanks for watching and don't forget to like and subscribe so you don't miss the ongoing planetary drama!
Watch it on Sott.net's
Vimeo channel
Music used: 'Escape from the Temple' by Per Kiilstofte. Licensed under Creative Commons Attribution 4.0 International
To understand what's going on, check out our book explaining how all these events are part of a natural climate shift, and why it's taking place now:
Earth Changes and the Human-Cosmic Connection
.
Check out previous installments in this series - now translated into multiple languages - and more videos from SOTT Media
here
,
here
, or
here
.
You can help us chronicle the signs by sending your video suggestions to sott@sott.net