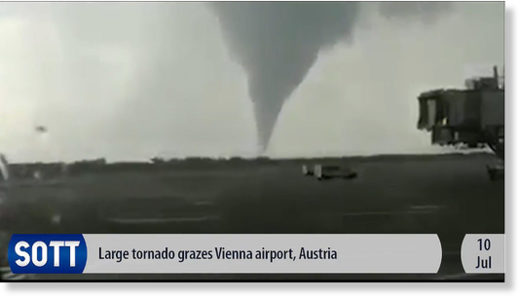 As colder summer temperatures and unseasonable snowfall start to become the new normal around the world, heavy rain and floods are breaking long-held records causing widespread damage to property and crops and the death of an increasing number of people.
As more and more animals are killed by lightning strikes, plasma events, 'red sprites' and noctilucent clouds are also on the increase along with meteor/fireballs sightings.
This July, wildfires scorched California, British Columbia, Croatia, Montenegro, Indonesia, France and Portugal, floods ravaged areas from India to Indonesia, and fierce hailstorms hit just about every continent.
It was one more wild month on planet earth. But how many are paying attention?
Check it out below, and thanks for watching!
Also watch it on
Sott.net's Vimeo Channel
:
Music used: 'Escape from the Temple' by Per Kiilstofte. Licensed under Creative Commons Attribution 4.0 International
To understand what's going on, check out our book explaining how all these events are part of a natural climate shift, and why it's taking place now:
Earth Changes and the Human-Cosmic Connection
.
Check out previous installments in this series - now translated into multiple languages - and more videos from SOTT Media
here
,
here
, or
here
.
You can help us chronicle the signs by sending your video suggestions to sott@sott.net