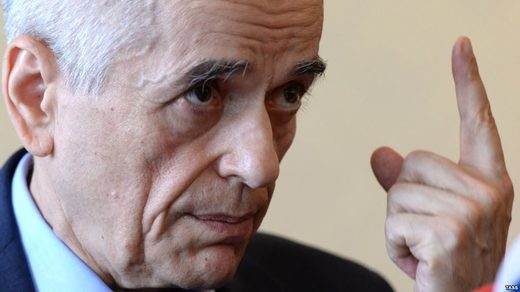 Russia has dismissed an attempt by the Pentagon to clear the air following a bout of speculation from senior Russian lawmakers that the West is harvesting the genes of Russians to develop a biological weapon more deadly than the atom bomb.
The allegations were dismissed by a Russia observer in the West as "propaganda" reminiscent of a "cut-and-paste job from an episode of X-Files." But they have sparked a call for a clampdown on foreign laboratories collecting DNA - and prompted one such laboratory company to threaten a lawsuit.
The claims came after President Vladimir Putin on October 30 said that Russian citizens' "biomaterial" was being gathered "systematically and professionally" by foreigners. He asked, without offering a theory, "Why are they doing this?"
Since then, Duma lawmaker and former chief sanitary inspector Gennady Onishchenko has called for legislation to tighten control over laboratories with foreign capital that gather biomaterial, calling it a threat to national security. He and other senior lawmakers have raised the specter of biological warfare.
"I'm not asserting that we are talking about specific preparations for a biological war against Russia. But that scenario is undoubtedly being developed," lawmaker and retired Colonel Frants Klintsevich wrote on his Facebook page. "The warning of the Russian president is very timely. The relevant agencies in the West should understand that we know of their interest."
On November 2, Onishchenko was more unequivocal: "This is an aggressive biological program that was banned by the 1972 convention on biological and toxic weapons."
Amid his flurry of statements, Onishchenko named Invitro, a large medical company based in Russia and Eastern Europe, prompting it to issue a denial of nefarious activity and a threat to sue him in comments to the RBC business holding.
The Russian speculation around DNA collection appeared over the summer when Kremlin-financed international TV broadcaster RT, also known as Russia Today, drew attention to a procurement order for Caucasian Russian biomaterial posted by the U.S. Air Force in July.
On November 1, spokespeople for the U.S. Air Force told TASS and the independent Meduza outlet that the biomaterial was
required for ongoing research
on the human musculoskeletal system and for identifying "various biomarkers associated with injuries."
The following day, Onishchenko and Deputy Foreign Minister Sergei Ryabkov poured scorn on that explanation. Ryabkov called it "contrived" and said Moscow would raise the issue with Washington. He also spoke out about what he called a "chain of laboratories" established with U.S. assistance or partnership in neighboring countries.
"We are going to express our dissatisfaction with the activity of the United States," he was quoted by Interfax as saying, adding that he hoped the DNA collection only "hypothetically" could constitute a threat to national security.
'X_Files Episode'
The idea of looming biological attacks from abroad as well as nefarious Western laboratories on Russia's borders has been a talking point for Onishchenko in the past.
Last year he alleged that the U.S. Army might be infecting mosquitoes with the Zika virus in Russia's south using a laboratory in neighboring Georgia. The laboratory in question appeared to be a reference to a biological research facility that was built in Georgia by the U.S. Defense Threat Agency in 2011 and handed over to the Georgian National Center for Disease Control for operation and ownership in 2013.
The allegations of DNA collection got short shrift with London-based Russia experts, who dismissed the idea that the United States would go about a top-secret biological-weapons program in such public fashion, posting procurement orders and using commercial companies.
Mathieu Boulegue, a research fellow at the Russia and Eurasian Program at the London-based Chatham House, cast the claims in Russia as propaganda designed for a domestic audience, adding in a reference to the American sci-fi drama that frequently involves paranormal activities, "It looks like a textbook case of cut and paste from an X-Files episode."
"I honestly don't think this is anything more than purebred propaganda trying to match destabilization for destabilization," Boulegue said. "And it is also a mirror into Russia's thinking of asymmetrical threats, and what they believe would be a response from the West to Russia's asymmetrical destabilization methods."