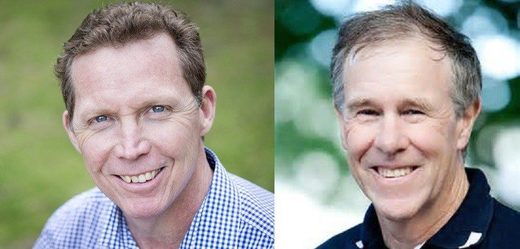 Dr. Gary Fettke, MD, of Australia and Professor Tim Noakes, MD, of South Africa are both being attacked for saving lives by promoting the low carbohydrate high fat diet.
In the case of orthopedic surgeon Dr. Fettke, his offence against the Australian medical establishment was to teach his patients how to use the low carb high fat (LCHF) diet to reverse their type 2 diabetes and avoid the amputation of their feet and legs. He and his wife Belinda Fettke established two clinics to help people adopt a low carb high fat eating lifestyle. The sanctions placed on him prevent him from recommending or speaking about the LCHF diet to anyone, anywhere, and at any time for the rest of his life.
[1]
Dr. Fettke specifically showed how consumption of sugar and polyunsaturated oils destroys health. He recommended the LCHF diet to address the root cause of modern diseases. The list of 146 harmful effects of sugar that Belinda Fettke has posted on the No Fructose website is a must read for anyone who is concerned about their health.
[2]
In the case of Professor Emeritus Dr. Noakes, his offence against the South African medical establishment was to show that a low carb high fat diet could reverse numerous diseases. His LCHF book
The Real Meal Revolution
, is the all-time top selling non-fiction book in South Africa with more than 200,000 copies sold in the last two years. Affiliated with the University of Cape Town, Professor Emeritus Dr. Noakes has distinguished himself as one of the world's most famous sports scientists. His work has evoked considerable backlash from those who seek to enforce compliance with high carb low fat dietary dogma.
Dr. Noakes is refusing to yield to persecution by the trivial charge that was brought against him, and is using his trial to bring the science of the LCHF diet into public view in South Africa and around the world.
[3, 4]
Together, Drs. Noakes and Fettke used decades of scientific research to show the link between the government recommended high carb low fat diet and arterial disease, diabetes, obesity, heart disease, cancer, and dementia.
Conventional Medicine, Big Pharma, and Big Food are Kicking Back
These groups are waging war against doctors and the hundreds of other healthcare providers and scientists around the world who have assembled strong evidence showing that the standard high carb low fat diet is one of the greatest health risks of our time.
The high carb low fat diet is the center pin of contemporary medical care, drug research/sales, and processed food marketing. The business model of these groups is based on having a steady stream of sick patients and sugar addicted customers who consume the government recommended high carb low fat diet.
The Diet War
The groups that have been promoting the high carb low fat diet for the past 40 years are fervently resisting any effort that would cause people to turn away from eating foods containing sugar, highly processed grain, and polyunsaturated seed oil. They resist, because such a change would destroy their financial monopoly.
Whenever healthcare professionals question the validity of the high carb low fat eating plan, special interest groups start snarling like a junkyard guard dog. Medical trade associations, the Big Pharma cartel, and processed food producers continue to insist that high fat low carb diets such as the ketogenic diet will kill people, because humans must have a steady external supply of glucose to survive. This is a lie, because the human body can produce the tiny amount of glucose it needs without eating carbohydrate foods.
It is now clear from the work of Dr. Fettke, Dr. Noakes and many others that people can thrive on a LCHF diet that feeds their bodies with ketones rather than excess glucose. It is not the LCHF diet that should be feared and vilified, rather, it is the high carb low fat diet that is making people sick and killing people by the millions around the world every year.
The Battle to Destroy the Careers of LCHF Advocates
The groups that have been promoting the high carb low fat dietary guidelines have shifted their tactics. Formerly, they resisted by publishing fraudulent industry-funded research
[5]
and labeled their opponents as foolish and uninformed. They are now attacking the people who are proving that the LCHF diet can reverse the diseases caused by the high fat low carb diet. Their goal is to silence and destroy the careers of anyone who dares to oppose them, and to intimidate others from following in their path.
The Beginning Stage of Dr. Fettke's Gag Order
I will let Belinda Fettke, the wife of Dr. Fettke, summarize the situation as it began in 2014. This statement appears on the No Fructose website. She stated in part:
My husband, Dr. Gary Fettke No Fructose, has been silenced and so, from today, this page [website] will become Belinda Fettke No Fructose.

There has been an AHPRA investigation [Australian Health Practitioner Regulation Agency] into Gary's qualifications to give nutritional advice and speak on the science of what we eat and its central role in our health. This investigation has been going on for over 2 years and a 'caution' has been proposed. Until the case is finalized he will have to abide by the law to maintain his professional registration, and to come back another day.

The Medical Board of Tasmania, under the umbrella of the Australian Health Practitioners Regulatory Authority, have advised him; 'In particular, that he does not provide specific advice or recommendations on the subject of nutrition and how it relates to the management of diabetes or the treatment and/or prevention of cancer.'

Gary is not allowed to comment on the central role of nutrition in preventative health, nor in the management of chronic illness on any social media platform.

Gary has been silenced and cannot discuss nutrition with his patients in any clinical setting, regardless of any undue stress on joints before replacement, inflammation, or even diabetes complications requiring amputation.

Gary is not allowed to speak at any public or professional meetings that involve the discussion of nutrition.

This scenario has been similar to the case of Professor Tim Noakes in South Africa. Tim and Gary have been communicating regularly. The difference between the cases is that Gary has been judged behind closed doors and Tim has been in courtrooms. Gary's investigation was the result of an anonymous notification and throughout the process he remains unaware of the peers that are judging him. It seems a strange system, where you are guilty until proven innocent, but he hopes to have the opportunity to make representation at some time before the final judgement.

I have been on this journey with Gary and have my own opinion on matters related to health. My qualification to comment, I have none. My previous work as a Registered Nurse is unlikely to give me any current expertise, but, like so many people living the LCHF life, I have seen the benefits in myself and in those around me who have decided to Choose Health.[6]
Dr. Fettke - Silenced for Life in 2016
Belinda Fettke gives us the following update. She provided these comments on her website:
As of the 1st November 2016 Gary has been officially 'Silenced' from talking about nutrition on any platform. Silenced from speaking with his patients or the public about nutrition, and the role he believes that Low Carbohydrate Healthy Fat Living can play in the management of diabetes and the adjunctive role in the reduction of complications and/or cancer prevention for the remainder of his medical career. [7]
The Australian Health Practitioner Regulation Agency [AHPRA] issued this statement to Dr. Fettke by e-mail. The e-mail stated in part:
There is nothing associated with your medical training or education that makes you an expert or authority in the field of nutrition, diabetes or cancer. Even if, in the future, your views on the benefits of the LCHF lifestyle become the accepted best medical practice this does not change the fundamental fact that you are not suitably trained or educated as a medical practitioner to be providing advice or recommendations on this topic as a medical practitioner. [8]
Belinda Fettke provided additional information about the official ruling. She explained why this happened:
Why? Because nutrition has been deemed to be 'outside the scope of practice' of an Orthopedic Surgeon, even though 2/3rds of Gary's patients have weight related joint issues and/or diabetes. AHPRA did not recognize that spending 1000s of hours reading textbooks, journal articles, working with scientists and collaborating with the full spectrum of health professionals (including fully qualified dietitians at Nutrition for Life) can be considered as 'research' or 'professional development.'

This 'Caution' that AHPRA has handed down to Gary suggests that he is also restricted from participating in any 'nutrition' research projects to improve the health outcomes of his patients. Not only that, but it would suggest that he is unable to do any further study to become 'qualified' in the field of Nutrition while he remains a doctor under the AHPRA umbrella!

There is no right of appeal. There is no time frame for the decision. It is indefinite. There is no review process. It is a closed door. Formal advice has described the process as a 'star chamber,' gross miscarriage of natural justice and a complete failure of fair process.

This is Australia in 2016, not Nazi Germany where Gary's grandparents were persecuted. There should be a right of opinion and open discussion rather than 'anonymous' reporting of doctors for advice which is fast becoming mainstream.

AHPRA have advised that the caution will not be recorded on the public national register but that they will make all employers aware of the caution. That leads to bias and potential discrimination forever. We have heard many stories of health professionals having their careers stifled because of these cautions.[9]
You can
use this link to read the full statement
about Dr. Fettke's silencing, and the future of the Nutrition for Life clinics that Dr. and Mrs. Fettke founded to help people adopt and maintain the high fat low carb lifestyle.
Belinda Fettke adds this final note. She stated:
So, if you are interested in helping me continue to question the science, promote the role that Low Carb Healthy Fat principles play in both the management and the prevention of disease, and would like to help me be to become louder than ever before, please join me as the voice of No Fructose. [10]
No Fructose
The Trial of Dr. Noakes
Charges were filed against Dr. Noakes, because of a Tweet!
In 2014, a nursing mother contacted Dr. Noakes on Twitter. This was her Tweet:
"@ProfTimNoakes @SalCreed is LCHF eating ok for breastfeeding mums? Worried about all the dairy + cauliflower = wind for babies?? [sic]" [11]
Dr. Noakes responded with a general Tweet that addressed all women who were wondering about weaning their babies onto LCHF foods. These are the famous words that got Dr. Noakes into trouble:
Baby doesn't eat the dairy and cauliflower. Just very healthy high-fat breast milk. Key is to ween [sic] baby onto LCHF [12]
Dr. Noakes clearly understood that his Tweet was general in nature, because the question he was asked referred to all nursing mothers. Thus, he was not responding in the context of a doctor patient relationship, because he was addressing all women who were considering how to wean their babies.
[13]
Based on his tweet, Dr. Noakes has been charged with professional misconduct that could result in the loss of his medical license. He was given the option of voluntarily deregistering as a physician in South Africa or facing a trial for misconduct. Dr. Noakes chose the trial. He actually hasn't treated patients in more than 15 years. He is using the trial as an opportunity to present the scientific truth about the low carb high fat diet to the world.
Dr. Noakes is a medical doctor and one of few scientists in the world with an A1 rating given by the National Research Foundation for his expertise in both nutrition and sports science.
[14]
The trial conducted by the Health Professions Council of South Africa (HPCSA) has unfolded in a series of phases over the last two years. The most recent segment took place in October of 2016 when Dr. Noakes testified for 5 and a half days before the HPCSA. He presented 30 hours of testimony complete with 900 slides to explain the science behind the LCHF diet, which also included information specific for infant feeding.
[15]
In a bizarre press release sent during the October trial, the HPCSA announced that Dr. Noakes had been found guilty. Three hours later they apologized and retracted the earlier press release.
[16]
There will be further interactions between Dr. Noakes and the HPCSA during the first few months of 2017 with a final decision scheduled for April 21, 2017.
[17]
Dr. Noakes designed the 5 and a half days of testimony to be a training course in LCHF science and its application to medical treatment for conditions such as heart disease, diabetes, and obesity. The testimony of Dr. Noakes was recorded and excerpts are now available on YouTube. These edited clips constitute a powerful presentation on this topic. You can watch most of the set of videos by using this link. Please search for the later segments.
Prof. Tim Noakes talks about the details of high fat low carb research on this YouTube playlist (
Excerpts from the trial testimony of Dr. Noakes
)
Dr. Noakes was a Former High Carb Advocate
Formerly, Dr. Noakes was an internationally acclaimed proponent of the high carb diet for athletes. He was a marathon and super marathon runner. When he was confronted by his own doctor about his type 2 diabetes he realized that something was seriously wrong. He watched his father die of type 2 diabetes and knew that if he followed his doctor's treatment advice he would end up just like his father — living without legs and a functional brain.
He began to research the situation with his diabetes and discovered that the culprit was the low fat high carb diet he had been promoting to runners and other athletes around the world.
[18]
Dr. Noakes thoroughly researched the high fat low carb diet and used it to recover from the dismal death sentence of type 2 diabetes that his doctor had given him. Dr. Noakes then publically recanted his earlier work on carbohydrates published in his book
Lore of Running
, known as the distance runner's bible.
[19]
Noakes Foundation for LCHF Diet Research
Dr. Noakes and other advocates for the LCHF lifestyle have established a foundation to conduct research on the use of the high fat low carb diet to treat diabetes, obesity, and related conditions. The foundation has received donations and grants which are allowing them to do studies to conclusively verify that the LCHF diet is safe and beneficial for reversing diabetes and for achieving sustainable weight reduction.
The Noakes Foundation - The dietary revolution to reverse the global epidemics of obesity and type 2 diabetes
(Scientific papers and testimonies about the LCHF diet (also called the Banting diet) are available on the Noakes foundation
website
.)
Noakes Foundation Banting diet - the Ocean View Project - YouTube
(
This video
contains testimonies from people who are recovering from diabetes, hypertension, and obesity after a lifetime of eating the low fat high carb diet. They explain what happened to them when they change to the LCHF diet to save their lives.)
Information about the Banting Diet Developed by Dr. Noakes:
Recipes, Meal Plans, Real Meal Revolution
.
You also might want to read these books about the high fat low carb diet from Dr. Noakes:
The Real Meal Revolution: The Radical, Sustainable Approach to Healthy Eating (Age of Legends), Sally-Ann Creed, Tim Noakes, Jonno Proudfoot, May 17, 2016.

(Comment: I have reviewed the book. It contains good information about low carb high fat living. For seriously ill people such as type 2 diabetics, some may need greater carb restriction. For example Dr. Noakes has found that the treatment of his own diabetes required zero carbs from sugar, and in total no more than 25 grams of carbs per day. This allowed him to break his former sugar addiction and to manage his diabetes most effectively. [20])

Super Food for Superchildren: Delicious, low-sugar recipes for healthy, happy children, from toddlers to teens, Tim Noakes, Jonno Proudfoot, Bridget Surtees; September 2016.

(Comment: I have reviewed the book. It appears to be a cookbook to help parents and their children make the transition from a modern junk food diet to a reduced carb real food diet. The recipes would be a significant improvement for children who live on microwave pizza, fries, take-out burgers, and soft drinks. As far as I can tell it is not intended to help reverse existing childhood illnesses such as diabetes or autism.)
Conclusion: Doctors Pay High Price for Following the Truth and Patients Suffer from "Approved" Nutrition Lies
The lies that have been promoted by professional healthcare trade associations, Big Pharma, sugar producers, and the manufacturers of highly processed food consisting mostly of sugar, other refined carbohydrates and industrial oils are so pervasive that most people have been completely brainwashed. Fortunately there are doctors and scientists all around the world who are challenging the lies and bringing nutritional truth into the light of day. Dr. Fettke and Dr. Noakes are two who have gained prominence for speaking the truth, and who are paying a high personal price for speaking out.
Sadly, Dr. Fettke will likely remain silent for some time to come. I am thankful that his wife will be able to continue speaking out on the benefits of the high fat low carb diet.
The saga of Dr. Noakes is still unfolding. His trial is serving to bring even more publicity to the fact that people around the world have been sold a set of lies in the form of dietary guidelines that will make them obese and give them diabetes. These guidelines are producing healthcare expenditures that are going to bankrupt every developed country on Earth, and which will cause early death for billions of people unless there is a major change in eating patterns. It is not just the money that will be wasted, but it is the lives that will be destroyed by disabling chronic illness, prolonged death in nursing homes, and the complete exhaustion of all personal assets.
The healthcare system in the United States is like a giant vacuum cleaner sucking up more than 17% of our gross national product [21] and producing some of the sickest people in the economically developed world.
What would happen to the healthcare system in America if the 29 million diabetics
[22]
could reverse their disease with a strict LCHF diet and discontinue most, if not all, of their drugs? What would happen to the profitability of hospitals and the greater healthcare system if these diabetics could avoid kidney failure, heart disease, blindness, strokes, nerve damage, and surgeries for limb amputation and remain employed? What would happen to nursing homes if diabetics never developed late stage symptoms of disease and never needed nursing home care, because they completely reversed their disease? What would happen if the 86 million prediabetics [23] decided to adopt the low carb high fat diet and never became diabetic? What would happen to the manufacturers of sugar rich high carb processed food products if the 163 million diabetics, prediabetics, and undiagnosed diabetics
[24, 25]
didn't buy their junk food anymore?
The answer to these questions might be financial collapse for all these business sectors.
A large part of our economy depends on keeping a high percentage of people sick and addicted. This is why the trade associations and industry groups who manage the healthcare system, drug manufacturing system, and food production system are running scared and are setting out to destroy those who are revealing the sinister truth about the standard high carb low fat diet that continues to be promoted to developed countries around the world.
These groups are not working to improve our health and provide us with low cost high quality food as they constantly claim. Rather, their plans are about maximizing market share and profits! Their bottom line requires massive amounts of sick people to sustain their control over the economy.
"If the public were to follow guidelines to restrict sugar to 5 or 10 percent of daily calories, this would mean that profits for junk food companies would fall by half." [26]
If diabetics treated their diabetes with the low carb high fat diet, then billions of dollars would be saved — perhaps as much as $245 billion per year. According to the American Diabetes Association the $245 billion dollars can be broken down into direct medical costs of $176 billion, and $69 billion in reduced productivity.
[27]
The costs associated with the exploding diabetes epidemic in the US rose 41% in just 5 years between 2007 and 2012.
[28]
This is a clear sign of a truly out of control epidemic.
There is no indication that would lead us to believe that conventional medicine or Big Pharma has a solution for diabetes. At best, they try to manage the symptoms until the metabolic disease kills their patients. They offer no meaningful hope for reversal - they only manage the process of physical and mental decay, while watching patients slowly decline into a lingering death.
In fact, the drugs that are prescribed don't even slow down the decline, because they were designed for people who are addicted to the high carb low fat diet. If the high carb low fat diet is causing diabetes and destroying health, which is clearly evident, then why should we expect that recommending this diet to diabetics will heal their disease? Does it make sense to use the high carb low fat diet to treat a disease that was caused by that diet?
The standard high carb low fat diet is also responsible for the obesity epidemic. This worldwide epidemic has associated costs of 1.4 trillion dollars per year in the US alone.
[29]
This epidemic can also be treated with the same LCHF diet that is being used to reverse diabetes.
If we want to understand how to address the epidemic of diabetes, obesity, and heart disease, then we have to do everything we can to understand why it exists. Those who do this exploration will naturally turn away from conventional treatments for these conditions and will make fundamental changes in their diet and lifestyle. Fortunately there is now an abundance of scientific research, websites, and books that can help anyone who is willing to make fundamental changes.
As Dr. Noakes personally showed, he didn't have to live and die as his father did. He was willing to break his sugar addiction and reverse his illness. Diabetics need not accept the normal progression of their illness. Obese people need not suffer hunger by using calorie restricted diets that slow their metabolism and eventually cause them to gain weight.
The LCHF diet isn't really a diet - it is a lifestyle of eating
. I have been using the LCHF diet together with intermittent fasting and feel stronger and healthier than I have felt in decades. I have a number of symptoms of diabetes. I am no longer clinically obese and my symptoms are diminishing.
The key to making the transition to LCHF eating is willingness to break the sugar addiction and change my relationship with food. I no longer consider eating as entertainment. It is now about sustaining the health of my physical body. Eating is no longer about getting high on sugar, but is about feeling energetically balanced and rested.
The key issues underlying the battle against the high carb low fat diet go far beyond the treatment of diabetes and obesity. They strike directly at the true cause of arterial disease, of which diabetes, obesity, and heart disease are some of the major symptoms. Arterial disease is caused by the high carb low fat diet and not by cholesterol. Arterial disease sets in motion a cascading set of factors that lead to diabetes, obesity, and heart disease.
Dr. Noakes explained that conventional medicine and Big Pharma continue to ignore two key problems, which are decreased life expectancy and financial destruction of the healthcare system. This is how Dr. Noakes described his concerns:
But in the interim I consider it appropriate to describe what I think are the two most important ideas that have crystallized in my mind as a result of the "trial." They help explain why I think as I do and why, in my opinion, this debate holds a key to the future of medicine, not just in South Africa but globally. I argue that the future of both medicine and of global health requires that we finally acknowledge the importance of some core issues.

Indeed a publication out this past month establishes that the exponential increases in obesity and diabetes in the US are now causing life expectancy in that country - the wealthiest in the world - to begin to fall for the first time in recent history. Such, I argue, is a true measure of how gravely the dietary guidelines that are at the heart of the "trial" have failed all of us.

The time to admit our error is now upon us.

Our current low fat dietary advice does not prevent arterial disease (for example of the heart). Instead it is the direct cause of an epidemic of arterial disease that will consume most of our medical resources within the next 10-20 years. [30]
References
[1]
"
Help be a voice for LCHF after Gary is silenced
," Belinda Fettke, No Fructose, Retrieved 1/7/2017.
[2]
"
Health Issues
," No Fructose, Retrieved 1/06/2017.
[3]
"Tim Noakes on Trial," Mark Dent,
Runner's World
, 4/5/2016.
[4]
"
NOAKES EXPOSED: THE REAL BEEF DIETITIANS HAVE WITH HIM!
" Marika Sboros, FOODMED.NET - Let food be your medicine ...
[5]
"
Sugar Scandal — Industry-Biased Study Questions Validity of Sugar Guidelines
," Mercola.com, 1/04/2017.
[6]
"Belinda Fettke,"
No Fructose
, Retrieved 1/5/2017.
[7]
"
Help be a voice for LCHF after Gary is silenced
," Belinda Fettke, No Fructose, Retrieved 1/7/2017.
[8]
IBID.
[9]
IBID.
[10]
"
Belinda Fettke
," No Fructose, Retrieved 1/5/2017.
[11]
"
No ruling from Tim Noakes hearing, matter adjourned until April 2017
," Jenna Etheridge, News - M&G, 10/28/2016.
[12]
IBID.
[13]
"
Tim Noakes HPCSA deposition 2016 - Introduction
," YouTube, Retrieved 1/5/2017.
[14]
"NOAKES EXPOSED: THE REAL BEEF DIETITIANS HAVE WITH HIM!" Marika Sboros,
FOODMED.NET
- Let food be your medicine, 4/3/2016.
[15]
"
Noakes: Low Fat Causes Heart Disease! Part 1
," The Noakes Foundation, Retrieved 1/11/2017.
[16]
"
No ruling from Tim Noakes hearing, matter adjourned until April 2017
," Jenna Etheridge, News - M&G, 10/28/2016.
[17]
IBID.
[18]
"
Interview with Professor Tim Noakes - The Banting Diet & building a lifestyle
," Quintessential TV, YouTube.
[19]
"Tim Noakes on Trial," Mark Dent,
Runner's World
, 4/5/2016.
[20]
"Interview with Professor Tim Noakes -
The Banting Diet & building a lifestyle
," Quintessential TV, YouTube.
[21]
"
US Health Care Costs Surge to 17 Percent of GDP
," Eric Pianin, REUTERS/Jessica Rinaldi, 12/3/2015.
[22]
"
Statistics About Diabetes
," American Diabetes Association, Retrieved 1/7/2017.
[23]
IBID.
[24]
"Half of American Adults Have Diabetes or Prediabetes," Rachael Rettner, Live Science, 9/08/2015. http://www.livescience.com/52111-diabetes-prediabetes-united-states.html
[25]
"U.S. Population (2017),"
Worldometers
, Retrieved 1/7/2017.
[26]
"
Sugar Scandal — Industry-Biased Study Questions Validity of Sugar Guidelines
," Mercola.com, 1/04/2017.
[27]
"
The Cost of Diabetes
," American Diabetes Association, Retrieved 1/07/2017.
[28]
IBID.
[29]
"
Obesity Costs More Than $1.4 Trillion a Year in the US
," Mercola.com, 12/14/2016.
[30]
"
Noakes: Low Fat Causes Heart Disease! Part 1
," The Noakes Foundation, Retrieved 1/11/2017.