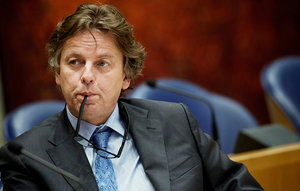 During a recent Dutch parliamentary budget debate, Dutch Foreign Affairs Minister Bert Koenders announced that the government would
invest €1.3 million
in an 'independent' Russian language media outlet. The money will be donated to the Dutch 'NGO'
Free Press Unlimited
that runs a regional platform on which Russian-language media organisations can exchange articles and news items.
Koenders claimed:
"The Russian government is exerting an ever tighter control on journalists and media organizations. With our support, we want to ensure that Russian-language media directs themselves, without interfering with what content they broadcast. By stimulating the independent press we want to improve the availability of independent news, so that the Russian-speaking public has options to choose from. That is directly in Dutch interest."
Referring to the results of a €500,000 Dutch-funded study by the European Endowment for Democracy (EED) into the 'Russian-language media landscape', he added:
"At this moment, the Russian-speaking public in the former Soviet Union pretty much only have access to one-sided news, which is also often contaminated with misinformation from the Kremlin."
The EED came up with
several recommendations
that the Netherlands, UK, US, Sweden, Germany, and the European Union have agreed to implement.
Taking a look at what 'independent' media outlets the Netherlands has thus far supported financially gives us an idea where this €1.3 million will end up, i.e. not to media outlets that present objective news, but to those outlets that present news that is in line with whatever the West deems as 'true'. Here are two small examples.
Supporting freedom of the press?
One Russian-language media outlet
supported
by the Dutch government is the newspaper
Novaya Gazeta
, which published
an article
shortly after the MH17 incident
with the headline "Forgive us, Netherlands", in Dutch, and apologizing for the plane crash on behalf of Russia, thereby supporting unfounded Western claims that Russia was to blame for the incident.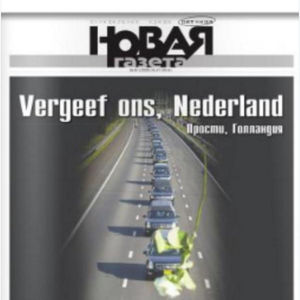 The Netherlands also financially supported Ukrainian television outlet
Hromadske TV
. This outlet has conducted some interesting interviews. One of them was with retired Col. General Vladimir Ruban, who
said
:
"I want to offer the Ukrainian artillery men medals, to those who shell the city [Donetsk], the houses and the civilian population, for they have deserved it [medals], both because of the accuracy and inaccuracy."
Another was with Ukrainian journalist
Bogdan Boutkevitch
:
If we take, for example, just the Donetsk oblast, there are approximately 4 million inhabitants, at least 1.5 million of which are superfluous. That's what I mean: we don't need to [try to] "understand" Donbass, we need to understand Ukrainian national interests.

Donbass must be exploited as a resource, which it is. I don't claim to have a quick solution recipe, but the most important thing that must be done - no matter how cruel it may sound - is that there is a certain category of people that must be exterminated.
This outlet was also
utilized
to build Euromaidan street demonstrations against the elected President Viktor Yanukovych. It also has been
funded
by the US embassy in the Netherlands, George Soros' International Renaissance Foundation, the government of Canada, and individual contributors. Altogether, the funds amount to several million dollars. To put it simply: a media outlet which openly broadcasts a call for genocide is being financially supported by Western governments.
Just what kind of pro-Western and anti-Russian media initiatives is Koenders wishing to support this time, I wonder...