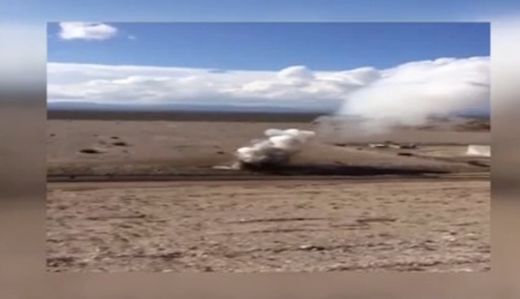 Cellphone video recorded the day an explosion rocked a small community in Nye County was released Thursday.
The explosion happened near Beatty, Nev. at a site once run by US Ecology.
In the 40-second cellphone video released by the Nevada Department of Public Safety, you can see the explosion in the shooting from the ground causing massive plumes of smoke. The explosion caused the facility to go up in flames.
State officials said the fire started in one of 22 covered trenches used to store low-level radioactive material like gloves or lab equipment. This caused the closure of U.S. 95 in both directions Sunday and Monday.
The fire eventually burned itself out. Government officials surveyed the area with a helicopter Monday, but the results came back negative for gamma radiation. Ground crews said they also didn't find any radioactive waste around the fire
. The all clear was given, and the area was reopened Monday at 5:30 p.m.
Government officials are still looking into what caused the explosion at the radiological storage facility.