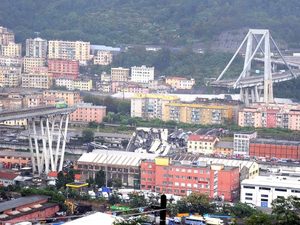 14 August 2018: Morandi Bridge in Genoa, Italy, collapses during a storm, killing 35 people
Shared pain is lessened; shared joy, increased - thus do we refute entropy.
- Spider Robinson
Recent Comments
Sometimes though, a little period of not reading every now and then is good also. Let the information sink in, compare, contrast, test, etc, then...
---
I haven't the slightest interest. I haven't and won't create an acc't/ID/whateve', never read it and don't even know how it works. The same with...
---
OK, so there are four contributors, Blisslife, BabaJaiy, Agnosco and prehistoric, all proselytising in favour of this DMT garbage, various of whom...
---
yes, cuomo. A servant of ALL people not just the ones with whom you agree.
---
Thank you for sharing this historical perspective, Leanne Rojik.