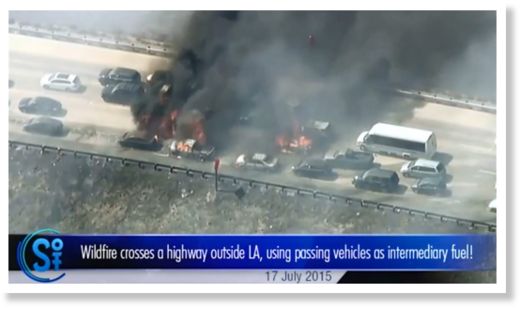 As the empire's noose around humanity's neck grows ever tighter, Nature responds to global suffering by alternately torching and drowning 'modern civilization'. July 2015 saw record-breaking heatwaves in western US, western Europe, and eastern Asia. Record numbers of wildfires breaking out across northern Canada and western US have forced the evacuation of thousands and torching millions of acres. In a scene one might expect in a Hollywood disaster movie, one wildfire outside Los Angeles crossed a highway and torched dozens of vehicles. In-between raging wildfires and epic drought, western US states saw record-breaking rainfall, with the highest July rainfall ever in southern California... falling within minutes.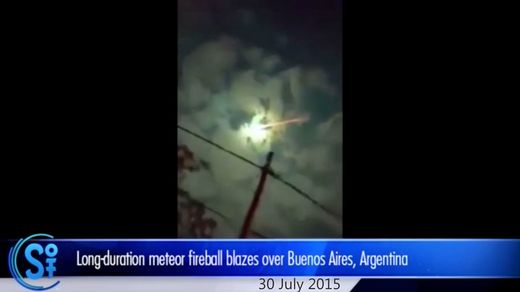 From extreme heat to extreme cold, Australia is in the midst of its coldest and snowiest winter in decades. Most striking last month were sudden changes the world over, as local weather flipped from one extreme to another, often in a matter of hours. In the midst of record-breaking heat in Germany, for example, parts of the country were hit by tornadoes, flash-flooding and several inches of hail, while The Netherlands recorded its strongest ever July storm. Powerful typhoons battered Japan and China, dumping several FEET of rain and causing destructive landslides. Buildings were washed away by flash-flooding in northern Iran, Kazakhstan, Pakistan, India, Colombia and Brazil, while an unusually heavy monsoon season brought Myanmar and Vietnam their worst flooding in decades.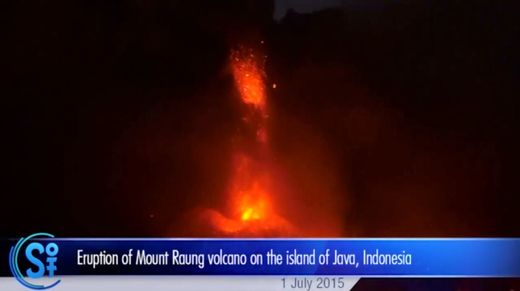 Destructive tornadoes in North America last month included one that was on the ground for nearly three hours, estimated to be the longest-duration tornado since 1925. Elsewhere, a powerful tornado left serious damage in a suburb of Venice, Italy. Whether they occur in the tropics, deserts, or high plains, and during 'winter' or 'summer', destructive hailstorms with ever-larger hailstones continue to defy normal patterns by occurring everywhere from southern Spain to the Philippines. St. Petersburg, Russia saw streets turn into icy rivers TWICE last month. Mass animal deaths, meanwhile, continue at an alarming rate, with diverse marine species washing up on US beaches, and half of this year's salmon in the Pacific Northwest estimated to have died.
These were the signs of the times in July 2015...
Watch it on
Sott.net's Vimeo Channel
:
Music used: 'Escape from the Temple' by Per Kiilstofte. Licensed under Creative Commons Attribution 4.0 International
To understand what's going on, check out our book explaining how all these events are part of a natural climate shift, and why it's taking place now:
Earth Changes and the Human-Cosmic Connection
.
Check out previous installments in this series - now translated into multiple languages - and more videos from SOTT Media
here
or
here
.
You can help us chronicle the Signs of the Times by sending video suggestions to sott@sott.net