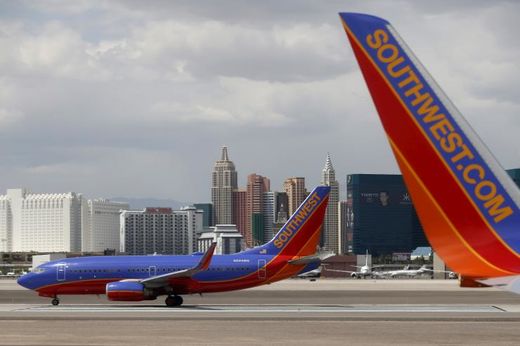 A Southwest Airlines flight, traveling from Las Vegas to Milwaukee, was diverted to Denver late Friday, because of
a pressurization problem
. The latest incident follows Wednesday's
emergency landing
by a SkyWest Airlines flight, traveling from Chicago to Connecticut,
after three passengers fell unconscious due to suspected pressurization problems
.
Flight 100, with 175 passengers and six crew members on board, was diverted after flying for about 90 minutes. The passengers were evaluated after the plane landed, without any incident. The Denver Fire Department responded to gate C27 at the Denver International Airport (DIA) to assist the evacuation of the plane. Company officials said only one passenger required medical assistance.
The airline said the flight to Milwaukee will continue and the passengers will be accommodated in another aircraft set to arrive about two hours late.
"Flight #100 from Las Vegas to Milwaukee diverted to Denver due to a pressurization issue. The flight with six crew and 175 passengers landed safely at Denver at 8:30 p.m. local time. The Boeing 737 -800 aircraft will be taken out of service and inspected, and we'll accommodate the flight to Milwaukee with another aircraft, scheduled to arrive about two hours late. We have a report of one passenger injury due to a fall while deplaning the aircraft. The remaining passengers will continue to Milwaukee," the company said in a statement, according to
Fox 31 Denver
.
DIA spokeswoman Laura Coale, said, according to the
Denver Post
: "There were patients that requested medical attention, but only one person has been transported for care, and that was due to a slip and fall," adding: "All passengers have been evaluated. No more medical attention is required."
Dean Fox, a passenger on the flight, said, according to
Fox 31 Denver
: "It was a scary experience, but the flight crew was very calm and professional, and the captain made a couple announcements after we got to a lower altitude. The [oxygen] masks did not deploy. Only a few [passengers] had reactions to the rapid pressure change."