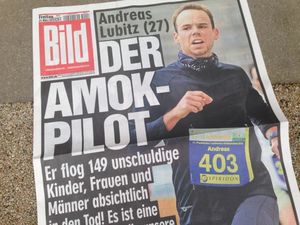 Screams of "
My God
," metallic banging and the cabin jolting to one side - the final moments of the doomed jet were said to have been captured on video, which several newspapers said they watched. However,
French prosecutors say it's a hoax
.
German
Das Bild
newspaper and French
Paris Match
magazine say they managed to watch the video, found among the wreckage, of the final moments of flight 4U9525 before the tragedy.
However,
the outlets didn't post the actual video on their websites
.
The phone memory card managed to survive the collision with the mountain,
say the outlets
, claiming it was found at the site by the investigators.
Das Bild
claim the authenticity of the footage is "
unquestionable
," though the scene on board was "
chaotic, totally blurred and no individuals can be identified
."
The footage is
allegedly
filled with audible screams of the passengers, who were
apparently
aware of the dangerous situation. The cry "
My God
" can be heard in several languages, the German newspaper
claims
.
The report also claimed the video
seems
to confirm an earlier released black box audio recording of the flight's last minutes, when the captain of the plane was trying to break into the cockpit.

Comment: ...that should be "allegedly trying to break into the cockpit." There is as yet ZERO evidence that such a scenario took place.


There are three distinct metallic sounding strikes
reportedly
heard on the footage. According to
Das Bild
and
Paris Match
this
could be
the plane's captain, Patrick Sondheimer, trying to smash down the door with what
sounds like
a heavy object. The strikes could be heard until the very end of the video, add the news outlets.
The last seconds of the video
allegedly
show the jet crashing into the mountain.
Das Bild
and
Paris Match
say they heard people cry and saw the cabin blown out on one side - and then silence.
However, Lieutenant Colonel Jean-Marc Menichini, a French Gendarmerie spokesman in charge of the rescue efforts' communications at the crash site, told CNN the video is a hoax.
The reports by German and French news outlets were
"completely wrong" and "unwarranted," he said, adding that phones were collected, but they "hadn't been examined yet."
According to Menichini, all phones found at the scene of the tragedy will be sent to the Criminal Research Institute in Rosny sous-Bois, near Paris, for investigation. However,
so far none have been dispatched
, he added.
He doubted that any memory card could have been leaked to the media.
Das Bild
, which still maintains the footage is authentic, asked an expert how the video on the cell phone could manage to survive such a catastrophic crash.