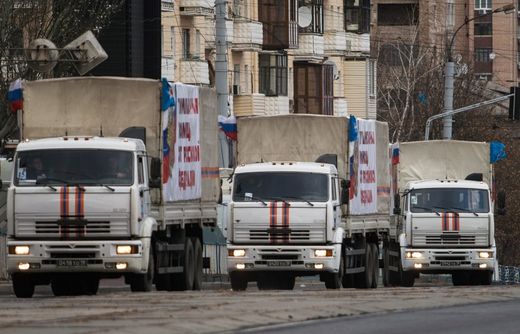 Russia's Emergency Situations Ministry said on Tuesday a new humanitarian aid convoy for Ukraine's embattled Donetsk and Luhansk regions was formed and ready for delivery.
"We have completed forming a regular convoy of trucks with humanitarian aid, and it will leave for Donetsk and Luhansk soon," Oleg Voronov, deputy chief of the ministry's national crisis management center, told TASS.
More than 100 tonnes of humanitarian cargoes, including medicines and fuel, have been loaded to some 20 trucks in Rostov region.
This is the sixth humanitarian convoy for residents of the self-proclaimed Donetsk and Luhansk People's Republics
. On Sunday, more than 100 trucks delivered over 1,000 tonnes of foodstuffs, fuel, construction materials and medicines to the regions.
Earlier, on October 31, about 100 trucks delivered about 1,000 tonnes of similar cargoes to Donetsk and Luhansk. Before at least 6,000 tonnes of humanitarian aid were dispatched to Donbass.