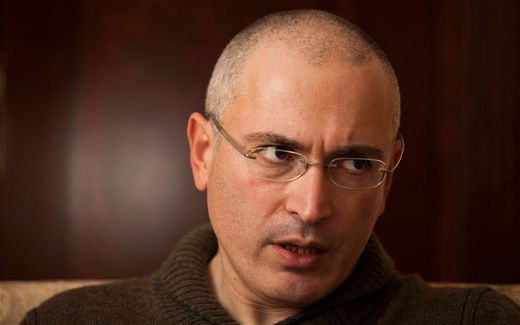 Mikhail Khodorkovsky, the one-time oil tycoon who spent a decade in President
Vladimir Putin
's prison, staked a claim to the leadership of
Russia
's opposition, which staged its biggest demonstration in years.
Khodorkovsky, living in exile in
Switzerland
since his release in December, called on supporters help influence the nation's 2016 parliamentary elections as he restarted his Open Russia movement. In interviews with major European newspapers including
France
's
Le Monde
,
Spain
's
El Pais
and
Germany
's
Der Spiegel
, he made the case that Putin is making mistakes that may hasten his departure.
Russia's opposition yesterday staged its biggest event since 2012, when Putin returned to the Kremlin after four years as prime minister amid the largest protests against his rule. His popularity has rebounded to near record highs since then as the conflict in neighboring
Ukraine
intensified. Even so, the government has been making mistakes that cost Russia and people will eventually realize that, Khodorkovsky told
El Pais
.

Comment: Mistakes like what? Not allowing Russia and the Crimeans to fall under the thumb and subjugation of the U.S./NATO/Banking elite via their fascist puppets in Kiev? Right here we see what side Khodorkovsky's bread is still buttered on.


"Khodorkovsky is seeing that the protest movement in the country remains quite significant, while among existing politicians almost none aspire to ally with him and be a moral leader," Mikhail Vinogradov, head of the St. Petersburg Politics Foundation, said by e-mail yesterday.

Comment: Khodorkovsky and those aligned with him - "moral leaders"? Where do these guys come up with this stuff?? Khodorkovsky is about as moral an individual as Wall Street ponzi schemer Bernie Madoff. Far worse actually considering the amount of economic and social damage he reaped on the people of Russia while he was lining his pockets with $15 Billion.


The "peace march" in Moscow drew about 26,000 people yesterday, according to Dmitry Nesterov, a coordinator for the Union of Observers for Russia. Estimates of the crowd size ranged between 5,000 according to police, and as much as 100,000 according to
Boris Nemtsov
, an opposition leader.
'Bigger March'
"This was a bigger march than the last time the opposition organized a march six months ago," Nesterov said. "It's not our job to answer why, but everything from the beautiful weather to people's growing frustration could have influenced the turnout."
Khodorkovsky, once Russia's richest man with a fortune of $15 billion, was freed by a presidential pardon in December. Imprisoned after convictions for
tax evasion
, money-laundering and oil embezzlement, Khodorkovsky maintained his innocence, saying the cases against him were retribution for financing opposition parties. The Kremlin has denied that.
The former tycoon said he's ready to lead Russia in a crisis situation, according to France's
Le Monde
newspaper, which published a video interview with the former main owner of Yukos Oil Co.
'Upside Down'
Putin's regime may last 20 more years or end in as little as two if he makes more mistakes, Khodorkovsky told
El Pais
. To make the transition possible, Russia would need guarantees for Putin like those given to the Spanish elite at the end of
Francisco Franco
's reign that they wouldn't be crushed, he said.

Comment: What a joke - comparing Putin's leadership to that of Spanish military dictator Francisco Franco's. But a great example as to how psychopaths like Khodorkovsky will attempt to re-arrange public perception and try to propagate their own very warped version of reality.


"Time and again, the regime embarks on adventures that result in a loss for Russia,"
El Pais
cited Khodorkovsky as saying. "For now, it's managed to explain them, but any given moment, when the people ask themselves what kind of tales we are are being told, the social conscience can turn the situation upside down."
The longer Putin stays in power, the higher the probability of Russia disintegrating in bloodshed, he told
Der Spiegel
. The U.S. and its allies encouraged the Russian leader's aggression by putting business before political principles, he said.
Russia's disintegration "won't be as peaceful as the separation of the
Czech Republic
and Slovakia after the
Cold War
," he said, according to the German newspaper. Khodorkovsky said that he values Russia's territorial integrity and that the country needs to be strong,
Der Spiegel
reported.

Comment: Just more examples of the psychopathic thinking that would seek to convince people that white is black, up is down, wrong is right, etc. And this, "The U.S. and its allies encouraged the Russian leader's aggression by putting business before political principles" is just classic coming from cockroach Khodorkovsky.


Support Candidates
The country may need constitutional reform that would redistribute some powers from the president toward courts, parliament and civil society, he told
Le Monde
.
"The main goal of resistance is elections of all levels, but first and foremost, of course, the 2016 elections to the State Duma, which has become a bulwark of reaction," Khodorkovsky wrote on his
website
. We "need to create an infrastructure that is ready to support any candidate in elections of any level who adheres in practice to the European choice and who is prepared to fight the cancerous tumor that has consumed Russia."
Putin's approval rating was 84 percent in an Aug. 22-25 survey by the polling company
Levada Center
. That compared with 87 percent in an Aug. 1-4 survey, 65 percent in January and a peak of 88 percent in 2008, Levada said Aug. 27. The poll of 1,600 people in 46 regions had a margin of error of no more than 3.4 percentage points.
The ruling United Russia party won countrywide regional elections held Sept. 15, gaining the most seats in Moscow, as well as Crimea, the region annexed from Ukraine in March. The ballot showed that the opposition has been fragmented and incapable of co-operation, according to Igor Bunin, head of Center for Political Technologies.
"Khodorkovsky has changed his mind about politics, deciding that the situation turned more favorable for him after Kremlin had allegedly made mistakes over Ukraine," Bunin said. "Still, a serious political crisis is needed for him to unite the opposition and bring his adherents to power."