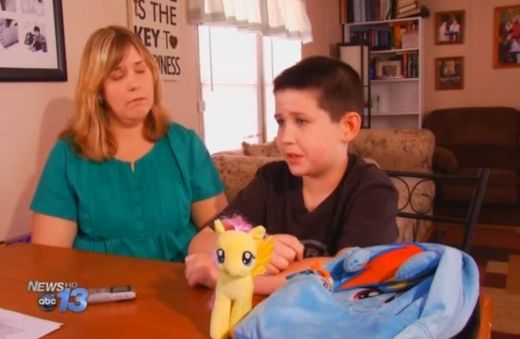 Grayson Bruce, 9, needed a new lunch box.
So he picked a sack with a "My Little Pony" theme - Rainbow Dash.
"I had no idea the fire storm it would start," Grayson's mother Noreen Bruce wrote on
Facebook.
Turns out that Grayson's a fan of the cartoon and its characters - and for that he's been bullied at at his North Carolina school where his classmates say "My Little Pony" is for girls.
"They're taking it a little too far...punching me, pushing me down, calling me horrible names, stuff that really shouldn't happen," Grayson told
WLOS-TV
in Asheville, acknowledging that "most of the characters in the show are girls, and most of the people put it toward girls, most of the toys are girlie."
When the bullying came to a head and Noreen Bruce got involved, she said school officials blamed Grayson's open appreciation for "My Little Pony" rather than punishing the bullies.
Last Thursday morning her boy was "so upset he would not get out of the car," Noreen Bruce wrote on Facebook. Then a school counselor showed up and said her son "should hide his lunch box in his backpack and that when you carry things like that these things happen."
"I was later contacted by the principal saying Grayson could no longer bring this lunchbox to school.
My son is being called awful names and has even been told to 'go home and kill himself!' Now on top of everything he can't bring a lunch box he really likes and I feel like is being sent the message that this is his fault
."
As for the district's position on bullying, its
website
notes: "Buncombe County Schools strives to foster a climate of respect and personal responsibility among students, and does not tolerate bullying in any form."
The school district declined an interview with WLOS but stated that "an initial step was taken to immediately address a situation that had created a disruption in the classroom. Buncombe County Schools takes bullying very seriously, and we will continue to take steps to resolve this issue."
While there have been no reports regarding the name of Grayson's school, the WLOS reporter is depicted in front of Candler Elementary School, about 15 minutes west of Asheville and not far from the Tennessee border.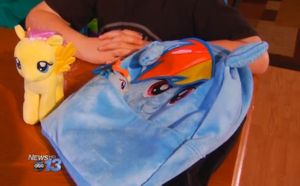 WLOS reported that Grayson isn't the only North Carolina "Brony" - i.e., male "My Little Pony" fan - to make headlines after being bullied for liking the cartoon: In January, 11-year-old Michael Morones in Wake County, N.C.
tried to commit suicide over "My Little Pony" bullying
, hanging himself off the side of his bunk bed.
"Eleven to 15-year-old boys are very much at risk for thinking about suicide when they're perceived as being gay," bullying prevention expert Nancy Mullin told WTVD-TV in Raleigh-Durham.
"The missing piece here is what the school is doing about this," Mullin told the station adding that while North Carolina is one of 49 states with bullying prevention laws, she doesn't feel enough is being done to implement successful programs.
As for My Little Pony being the disruptive source, Grayson's mom added to WLOS that "saying a lunchbox is a trigger for bullying is like saying a short skirt is a trigger for rape. It's flawed logic; it doesn't make any sense."
So Grayson has been bringing a different bag to carry his lunch to school, but Noreen Bruce said it's not right to force him to leave his My Little Pony stuff at home, especially since the cartoon is "promoting friendship, there [are] no bad words, there's no violence," she told WLOS.
Apparently thousands of others agree. A friend of Grayson's four days ago created a
Facebook support page
for him that's garnered more than 11,700 likes as of Saturday evening.