If you seek an indication that something is terribly wrong with science look no further. In 2012
brave citizen
of Miami
Cory Boehne noted
that just south of the Port of Miami ship channel, less than two miles from downtown Miami Beach in 30′ of water, was the
unmistakable signature of a cosmic collision: A multi-ringed impact
complex crater
with a central peak.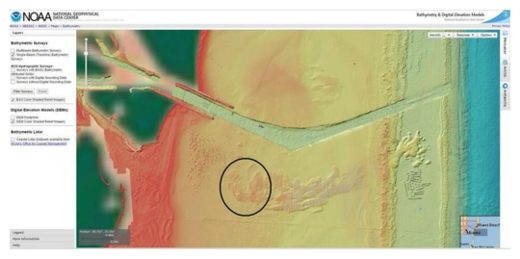 Cool. At best it is an easily accessible opportunity for complex crater research. So much easier than
Greenland
or
the Moon
.
Or, at worst, a chance to demonstrate geological forces other than impact are crafty, and conspire to produce "pseudo-craters" in order to fool pajama scientists like the Tusk.
So what do you think was the response from the scientific "community" to these compelling images? Crickets. Not a word.
Despite what appears to be
a sincere attempt to bring some attention
to the amazing find, and
another wonderful effort by astronomer Charles P.T. O'Dale
, as far as I can tell, the community of academic and research scientists in Florida and elsewhere could not get up the gas money to take a boat out there.
See if you can
find a single published paper
.
Yet again we learn the lesson: The closer the subject hits to home, the more verboten it becomes.