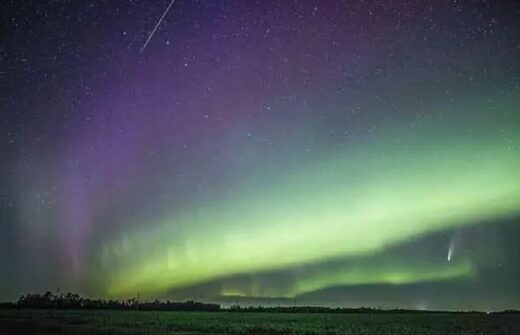 Comet Neowise — a glowing ball of space ice with two colorful tails — has starred in countless photos as it streaks through the skies across the Northern Hemisphere this week. On Tuesday, three cosmic co-stars joined it, making for an astonishing spectacle.
The image above shows a split-second meteor streaking across the sky, the green aurora shimmering over Comet Neowise, and purple ribbons dancing in a mysterious atmospheric phenomenon called Strong Thermal Emissions Velocity Enhancement (STEVE).
The shot was one of nearly 600 that photographer and farmer
Donna Lach
snapped on Tuesday night near her farm in Manitoba, Canada. Lach volunteers for a citizen science project called Aurorasaurus, funded by NASA and the National Science Foundation, which first discovered STEVE in 2016.
The aurora appears when charged particles from the sun interact with oxygen and nitrogen in Earth's atmosphere, but STEVE's origins are still a mystery.