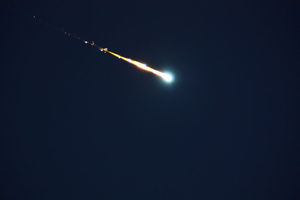 A man who saw a meteor blazing across the New Plymouth sky last night was about to ''fall to his knees and pray'' that it wasn't the end of the world.
Anthony Warren said he was standing outside his David St home smoking a cigarette when he saw the fiery ball with a long trail light up the city sky at 1.28am.
''It was pretty scary. I was hoping no more were going to fall.''
He said he had seen it begin in the south near Paritutu and travel north before it burned out.
''I ran out onto the field to try and see where it went.''
Thinking it was a comet, he looked in the phone book for the number for the observatory because he wanted to name it.
''I would've called it Zykodia, which is my daughter's name.''