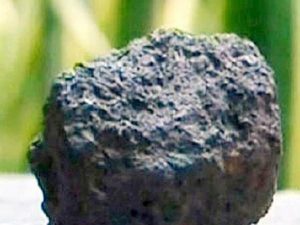 Two hot "stones" have fallen from the sky in Uttar Pradesh's village of Kasoli. The meteorite-like objects will be examined by a team and will identify the nature of the unearthly object. But is this the first time this has ever happened in India?
Time and again, humans have encountered tales about aliens, their world and a different universe that exist outside the proximity of Earth. And the unearthly objects have always fascinated the intrigue of a person. That intrigue was poked again on Friday when two hot "meteorite-looking" embers were found in the village of Kasoli in Uttar Pradesh by the locals.
According to Sub-divisional Magistrate Kumar Dharmendra,
the hot stones fell down making a loud sound after a rainfall in the village. Dharmendra said, the stones have been taken into "safe custody" and will be investigated for experts to examine and identify whether they are meteorites.
Geography professor from a local college, Niraj Tyagi said the two "stones" could be a part of a big meteoroid. But, it is not the first time such an incident has occurred. In fact, this is not the first time such a thing has happened in the district. In November 2003, a black-coloured meteorite, as confirmed by the scientists, was found in Kasoli village.
11 cm thick with 29 cm diameter, the meteorite created a 15-inch deep crater when it landed in the village. Another case of two meteorites was reported from Karimpur village.
Many people have seen shooting stars at some point in their lives. A meteor can be seen as a flash of light in the night sky. It can be seen when a debris burns up while it passes the atmosphere. The debris that burns is known as a meteoroid.