A meteorite passed over Cayman's skies Monday night, causing a little alarm and a lot of excitement.
Chris Cook, president of the Astronomical Society, explained that sighting the object, that moved slowly across the sky in a shower of light around 10pm, was unusual, but nothing to be alarmed about.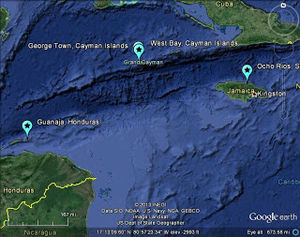 "It was a very small asteroid, a fireball travelling from Honduras, across Cayman to Jamaica, a meteor that broke up. It's not unusual for these things to happen, although it is more unusual actually to see it," Mr. Cook said.
While regular meteor showers are commonplace, he said, this event was "absolutely unpredictable", recalling that people started "waking up" to "near-Earth objects" only a couple of years ago when the massive comet Shoemaker-Levy 9 smashed into Jupiter, the scars of which, apparently, remain visible.

Comment: Small correction: comet Shoemaker-Levy 9 smashed into Jupiter a couple of decades ago. Since then, Jupiter has been hit at least 3 more times by similarly-sized objects, our own Moon has been hit, and tens of thousands of fireballs have been reported all over this planet, including the February 2013 Chelyabinsk blast that sent shockwaves around the world (twice), apparently the largest celestial event we've had since the 1908 Tunguska overhead cometary explosion.