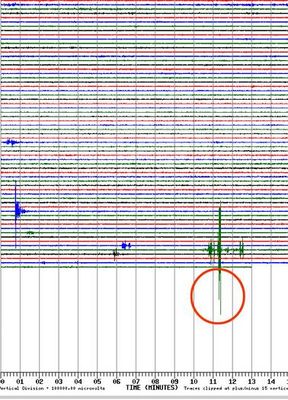 Tremors that Ocean City residents reported feeling around midday Thursday did not come from an earthquake, seismologists said, but may have come from supersonic flights from Patuxent Naval Air Station.
"The data is very inconsistent with any kind of earthquake activity," Maryland Geological Survey Director Richard Ortt said. That was because the timing of the tremor's detection by various sensors did not match the time it would be expected to take for a seismic event to ripple through the Earth's crust, he said.
The source of the tremors remains unknown, Ortt said. Sometimes sonic booms, explosions or other blasts can be confused with earthquakes, he said.
Air station spokeswoman Connie Hempel said the Navy conducted two supersonic flights off the coast Thursday, though she did not know what time they were scheduled for.
Residents of the beach resort town reported hearing a loud boom and feeling earthquake-like tremors
shortly before noon.
"We have had reports that people felt tremors," said an Ocean City police spokeswoman, who estimated that the department had fielded more than a dozen calls as of noon.
She said the calls came in "from the whole length of Ocean City, just within the last hour or so" and there were no reports of damage so far.
The state geology agency worked with seismologists in Delaware, New Jersey, Virginia and Pennsylvania to study the tremors.
A U.S. Geological Survey earthquake monitoring website shows no earthquakes of at least magnitude 2.5 in the region recently.
Police were checking with the U.S. Coast Guard and other authorities to identify the source of the tremors and unusual sounds. A spokesperson for Dover Air Force Base in Delaware said it had no demolition or flights in the area.
"We are hearing reports of a possible earthquake in Ocean City, MD. That is unconfirmed at this time," the Maryland Emergency Management Agency said in a post on Twitter.
The disturbance was not felt by everyone. "Our police station is like Fort Knox, so I didn't feel anything really," the spokeswoman said.
The only earthquake on record in Ocean City occurred Oct. 15, 1928, according to the Maryland Geological Survey. The Delmarva peninsula was also among those areas up and down the East Coast to feel the 5.8 magnitude earthquake centered in Virginia on August 23, 2011, according to the USGS.