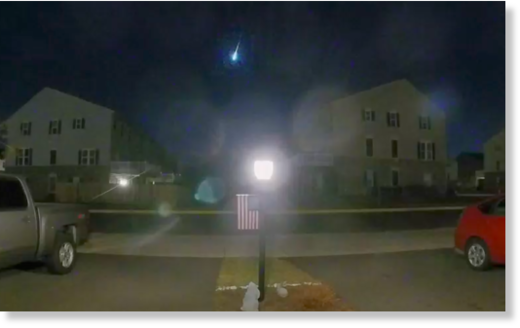 Did you see it? NASA Meteor Watch says a very bright fireball was spotted across the East Coast around 12:26 a.m. Sunday morning.
The meteor was also detected by three meteor cameras belonging to the NASA Fireball Network and two cameras of the Southern Ontario Meteor Network, NASA said.
"A quick analysis of the best set of video data from these systems shows that the object first became visible 55 miles (88 kilometers) above the town of Greenstone, near the Pennsylvania/Maryland border," NASA noted. "Moving northwest at 51,000 miles per hour (23 kilometers per second), the fireball traversed 38 miles (61 kilometers) through the atmosphere before fragmenting 28 miles (45 kilometers) above the Pennsylvania town of Newburg."
The American Meteor Society recorded more than 75 sightings of the meteor early Sunday. Observers described the fireball as white or light blue with a bright tail.