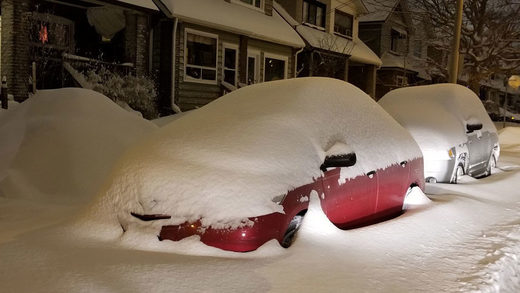 Environment Canada has issued an extreme cold warning for Toronto, the day after a record-breaking snowfall blanketed the city.
The warning also extends to the rest of the GTA.
"A frigid Arctic air mass and strong winds will result in wind chill values of -30 to -35 tonight through to Friday morning," the national weather agency said in its warning.
680 NEWS meteorologist Jill Taylor said temperatures will fall to -9 C on Tuesday afternoon. The windchill will be near -30 overnight.
Conditions are expected to improve on Friday as milder air moves into the region.
Meanwhile, the cleanup continues from the massive snow storm that led to traffic and transit issues, as well as school bus cancellations and school closures.
In Toronto, the city recorded the largest single-day snowfall - which led to school bus cancellations in the Toronto District and Catholic school boards.
Taylor said around 26.4 centimetres of snow was recorded at Pearson International Airport on Monday, breaking the record of 13.4 centimetres set on that date in 2009
. As of 10 a.m. Tuesday, the city recorded 33 centimetres, which factors in the early-morning snow.
But the last time Toronto had more than 20 centimetres of snow in a single day was 51 years ago
- 20.8 centimetres on Jan. 14, 1968. Prior to that, Toronto recorded 36.8 centimetres on Jan. 23, 1966, and 27.9 centimetres on Jan. 3, 1943.