A comet theory put forth by a group of 25 geo-scientists suggests that a massive comet exploded over Canada, possibly wiping out both beast and man around 12,900 years ago, and pushing the earth into another ice age.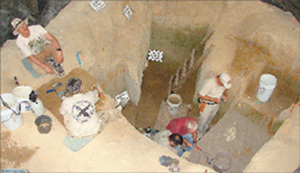 ©USC
Site where most pre-Clovis work is being done.
University of South Carolina archaeologist Dr. Albert Goodyear said the theory may not be such "out-of-this-world" thinking based on his study of ancient stone-tool artifacts he and his team have excavated from the Topper dig site in Allendale, as well as ones found in Georgia, North Carolina and Virginia.