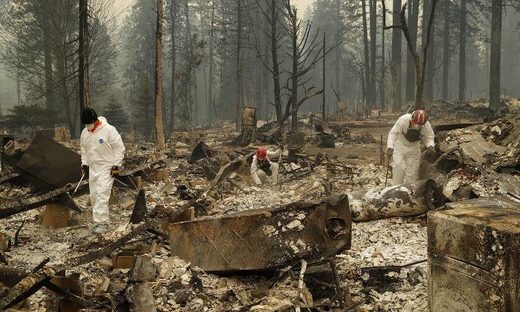 Governor describes scenes of devastation as a 'war zone', as thousands remain displaced and more than 100 unaccounted for
Fifty-six people have died in the Camp fire, authorities said on Wednesday after they tracked down an additional eight sets of remains outside and in the rubble of homes in Paradise.
The majority of victims, 47 in total, have been tentatively identified by authorities, the Butte county sheriff, Kory Honea, said, but they are awaiting DNA confirmation. Some remains may never be recovered due to the extent of the fire.
Two people have also died in the Woolsey fire, a major blaze around Los Angeles
,
and authorities said earlier on Wednesday that they were investigating a third apparent fire-related death in the burn zone in the south of the state.