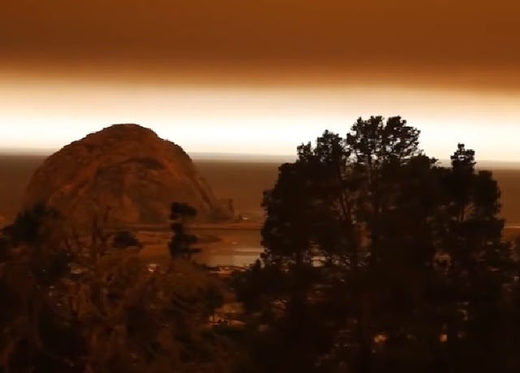 This is the stunning 'apocalyptic glow' that has formed over California as
authorities battle a wildfire the size of Singapore
.
It was filmed in the coastal city of Morro Bay and shows a smoky glow in the skies over the state, which is enduring the fifth biggest fire in its history.
The blaze, which has been named the Thomas Fire, has now burned an area of more than 230,000 acres around 100 miles northwest of Los Angeles.
The clip was posted on Twitter by David R Purl, who wrote: "Apocalyptic smoky glow in Morrow Bay from Thomas Fire 10 Dec 2017. "God bless the Responders!"
Strong wind gusts of up to 40mph and extremely low humidity
that is expected through Thursday will continue to pose a challenge to firefighting efforts, the National Weather Service said.