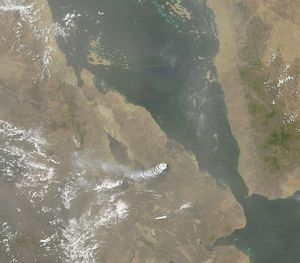 The first video footage emerged Wednesday of the eruption of the Nabro Volcano, located close to Eritrea's border with Ethiopia in northeast Africa.
Eritrean TV (Eri.TV) today broadcast images of the volcano which erupted for the first time in its history on Sunday 12 June last. The volcano continued to erupt Wednesday sending ash northwestards toward Sudan.
Meanwhile, the eruption of the stratovolcano has created a new landmass, according to the director general of Mines at the Ministry of Energy and Mines, Mr. Alem Kibreab.
Mr. Alem said that the ash and lava emitted from the Southern Red Sea region volcano has created a new land mass measuring hundreds of square metres. The director general also disclosed that a team composed of geological and volcanic experts is conducting studies in the area.
Meanwhile, according to reports, 7 people have died while 3 people have sustained injuries due to the eruption. The Ministry confirmed that inhabitants of the area have been moved to safer locations while at the same time they are being given basic provisions.