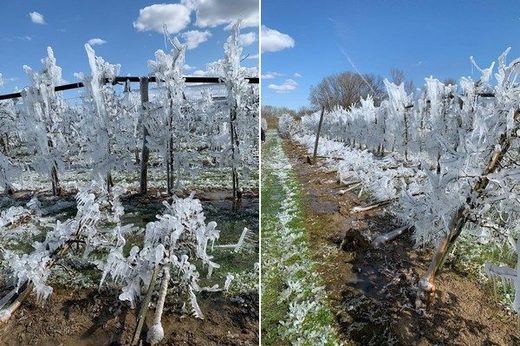 A brutal and extensive swathe of sub-zero temperatures has engulfed much of Europe, ravaging farmers' fields throughout Northern Italy, much of Poland, and the Ukraine.
Italian farmers' group Coldiretti issued a report on March 24, revealing a "difficult situation" throughout a significant part of the Italian peninsula, with frost-damage recorded from Lombardy to Emilia Romagna and from Veneto to Puglia.
Temperatures as low as
-6C (21.2F)
were recorded in Emilia Romagna.
As reported by
iegvu.agribusinessintelligence.informa.com,
the Coldiretti statement identified that apple, pear, peach, apricot, and almond trees had begun flowering, while cherry and plum trees were now also in bloom, and that these frosts have already destroyed many a harvest.
Massimo Franchini, a peach and apricot producer from Casal Fiumanese, reported as well that there is nothing left of his plantation. "I do not know how long it lasted, but enough to damage every single fruit."
"I believe it will be difficult for producers to honor payments this year, as we will have no income," he stated.
The Coldiretti report continued, adding that the damage is also seen in artichoke to asparagus fields, from beets to chicory, and also to peas.