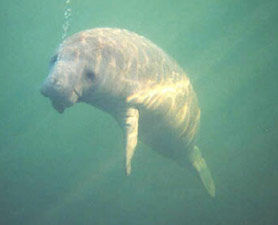 Manatees, sea turtles and fish in the Sunshine State are dying in record numbers because of the unusually long cold snap.
With temperature in central Florida dipping down again this week, conservationists are bracing for more animal and plant deaths due to unusually long winter cold snaps that have resulted in record wildlife losses.
Manatees have been among the hardest hit, with over 200 killed in January alone, and carcasses continuing to wash ashore. The highest number of manatee deaths for a single calendar year in Florida waters is 429, so local officials are closely monitoring these endangered marine mammals.
"Manatees can experience what is known as cold stress syndrome when they are exposed to water below 68 degrees Fahrenheit (20 degree Celsius) for long periods," Florida's Fish and Wildlife Research Institute spokesperson Carli Segelson told Discovery News. "This can result in death, or weaken manatees, leaving them more vulnerable to other health issues later."