In October 2013 there was a considerable rise in solar activity as the sunspot number (SSN) climbed to 85.6. That's 77% of the mean value reached at this time into a solar cycle since 1750. The following diagram shows the current situation: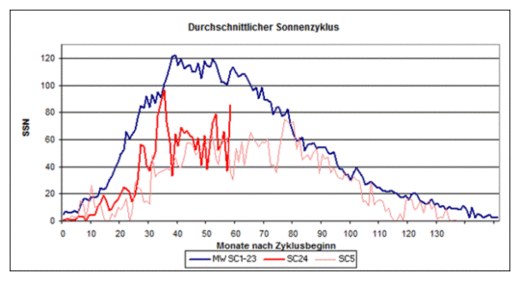 October 2013 deviates significantly from solar cycle number 5.
However we continue to believe that SC 24 will be similar to SC 5. Just how large the uncertainties of the correct description of the 5th cycle is shown by a recently
published paper by Rainer Arlt of the Leibniz Institute Potsdam and Ilya Usoskin
of the Finnish University of Oulo, who after examining the solar cycles between 1750 und 1850 reached the conclusion that the sunspot count should be lowered by 20%. SC 24 shown by the blue curve is, however, still very much below average, let alone well below the large cycles of the solar maximums from 1940 - 1990.