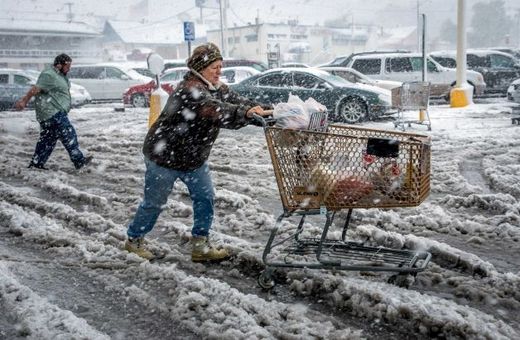 Sioux Falls, SD - A storm system that buried parts of Wyoming and South Dakota in heavy, wet snow on Friday also brought powerful thunderstorms packing tornadoes to the Great Plains.
A storm dumped at least 33 inches of snow in a part of South Dakota's scenic Black Hills, National Weather Service meteorologist Eric Helgeson said Friday afternoon. Later in the day, thunderstorms rolled across the Plains, and witnesses reported seeing tornadoes in Nebraska, Iowa and South Dakota. There were no reports of deaths from any of the tornadoes.
Earlier in the day, snow was blamed for the deaths of three people who were killed in a traffic accident on snow-slicked U.S. 20 in northeast Nebraska.
Forecasters said the cold front would eventually combine with other storms to make for a wild, and probably very wet, weekend for much of the central U.S. and Southeast.
Some of the greatest damage from tornadoes seemed to be in Wayne, Neb., a town of 9,600 where witnesses said at least four homes were destroyed. Mayor Ken Chamberlain said all of the residents in town were accounted for, but the storm caused millions of dollars in damage to an area that includes businesses and the city's softball complex.