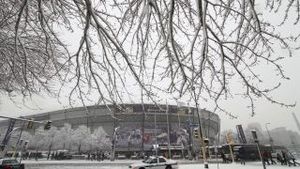 Minneapolis - The heaviest snowstorm to hit the region in two winters, named Caesar by The Weather Channel, dumped heavy snow across a broad belt of Minnesota including the Twin Cities area Sunday, as well as parts of western Wisconsin.
A snowfall totalling 10.5 inches fell on Minneapolis, setting a daily record that eclipsed the previous mark of 7.4 inches set in 1961
. The total was the fourth-highest for December in the history of the Twin Cities. Daily records of 11 inches fell in St. Cloud, MN, and 12.5 in Eau Claire, WI.
"The amazing combination of snow, wind and colder temperatures combined to produce the blizzard conditions over a three-state area," said Tom Niziol, the winter weather expert for The Weather Channel.
"It's interesting because it was a swath of heavier snow that moved across the Dakotas and in through Minnesota during the day and evening hours yesterday. For a major winter storm, a large-scale storm, the heavier snow was in a narrow corridor. We got as much as 17 inches of snow in Sacred Heart (MN), 14 inches in Hendrick (MN), and if we zoom into Minneapolis these are amazing snowfall totals.
I believe these are Top 5 for December calendar days that go back all the way to the 1800s.
"