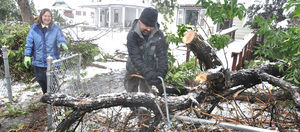 "Plus, almost 4 weeks earlier than normal!" says reader Ralph Fato. Average 1st snow is October 22nd for RIW, says Ralph. They got 5.7″ on September 26-27 this year. Almost 4 weeks earlier than normal!
It's also the 2nd largest September snowstorm, and the 2
nd
highest snow total for the entire month of September. I believe records go back to 1907, not sure though.Green Leaves were still on the trees! (see more pics on their FB page)
"The question has been raised, "This is early for snow." Well, yes and no. Let's use the town of Riverton as an example. The average date of first measurable snowfall in Riverton is October 22nd; however, there have been several major September snow storms in Riverton's history. The earliest snow was on September 6th, 1929 when 3″ of snow fell.
The three largest September snow storms in history were:
The Riverton COOP station reported 1.50″ of water and 5.7″ of snow for the 24-hour period ending Friday, September 27, 2013, at 7 AM. That snowfall totals ties the storm that struck September 22-24, 2000, for the second largest September snow storm. September 2013 is now tied with September 2000 as the second snowiest"
NOAA's link
her
e
Direct link
to their pics.
Thanks to Ralph Fato for these links