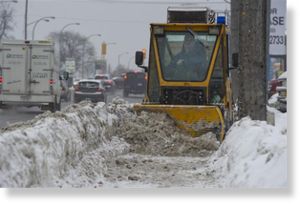 Toronto - Environment Canada warned Wednesday that a dangerous winter storm was moving into the southern and eastern regions of Ontario as the weather system works its way up from the U.S.
The agency said in a special weather statement that much of the province will be walloped by snow starting Wednesday afternoon as the outer reaches of a weather system making its way north from Kentucky crosses the border.
Meteorologist Arnold Ashton said the system will move on to deliver snow to parts of southern Quebec and New Brunswick on Thursday.
"It's the combination of snow and blowing snow that makes this particularly nasty," Ashton said.
Environment Canada said the areas of Dunnville and Niagara in southwestern Ontario and the stretch between Kingston and Cornwall in the east will bear the worst of the storm, getting 15 to 20 centimetres of snow.
The weather agency said other communities in those regions can expect up to 15 cm of snow, while central Ontario residents should get their snow shovels ready for 5 to 10 cm.