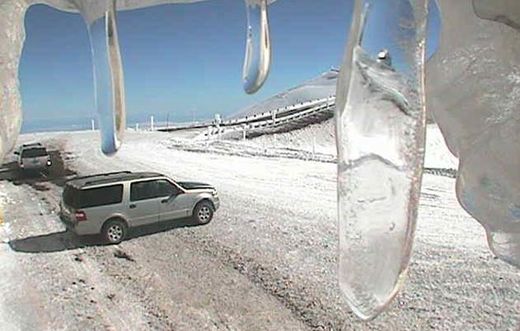 The unusually cold weather over the last two days continued to break records in Hawaii, including a record for this date that goes back over 122 years in Honolulu.
The National Weather Service said Monday morning's low temperature of 57 degrees beat the low temperature for this date of 60 degrees of temperatures recorded at the Honolulu Airport.
It also beat a older low temperature record for Honolulu set in 1893 of 58 degrees.
On Kauai, the low of 57 degrees at the Lihue Airport beat tied a record of 57 degrees last seen in 1993.
It's the second day of record low temperatures.
Four low temperatures records were tied or broken Sunday morning.
The low of 54 degrees in Lihue and Kahului Sunday broke records for Kauai and Maui. The previous record of 59 degrees in Lihue was set in 2005. The low in Kahului broke a record of 55 set for this date in 1971.
In Hilo, the low temperature of 59 degrees broke the previous record of 60 set in 1999 on Sunday's date.
Honolulu tied a record low of 58 degrees set in 1979.
Temperatures should be a little warmer Monday night, ironically because of a weak cold front moving through the islands.
The cold front, which should only bring a few scattered showers, will strengthen winds, which should keep temperatures in the low- to mid-60s in most areas overnight, forecasters said.
The road to the summit of Mauna Kea remained closed Monday morning because of snow and ice. However, a high wind advisory for the Big Island summits expired at noon.
We may get one more night of unusually cool winter weather on Tuesday as dry and cool air behind the front may drop temperatures back into the 50s Tuesday night.
Temperatures should gradually warm during the rest of the week into the weekend, when high temperatures should return to around 80 degrees, with lows in the upper 60s at night.
Forecasters say trade winds could weaken and turn southeasterly by the end of the week, bringing a chance of fog this weekend.