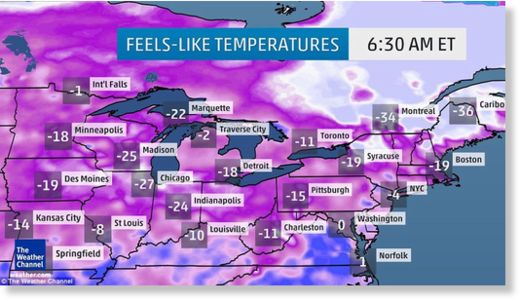 Dangerously cold air has sent
temperatures plummeting into the single digits
around the U.S., with wind chills driving them even lower. Schools in Chicago, Boston and other large cities closed, unable to cope with the third day of sub-zero climes.
Frostbite warnings
have been reissued across the Northeast and East Coast this morning, with millions of Americans urged to avoid prolonged exposure to the cold.
And meteorologists warn there is little relief in sight as an Alberta clipper rolling in from Canada, followed by
another arctic surge, is set to make things worse before it gets better.
In western Pennsylvania, two people were killed and a dozen left injured in an 18-vehicle pileup that happened in whiteout conditions on an interstate.
Nine trucks, several of them tractor-trailers, and nine cars were involved in the crash on Wednesday afternoon on Interstate 80 in Clarion Township, state police said.
At least one of the trucks was carrying hazardous material, but no leaks were found.
None of the injuries was thought to be life-threatening, but three of the approximately 20 people taken to the hospital, appeared to have serious injuries. The others were treated for everything from bumps to broken bones.
On Thursday, school districts from the South to the Northeast and Midwest are delaying the start of classes or canceling school altogether as frostbite warnings sweep the nation.
'Frostbite can occur in a matter of minutes on exposed skin,' the Chicago weather service warning said. 'Extended exposure without proper clothing will increase the risk of hypothermia.'
In New York, forecasters said: 'If you must venture outdoors, make sure you wear a hat and gloves.'
Wind-chill readings below zero were forecast in such places as Alabama and Asheville, North Carolina, along with a chunk of the Midwest and the Plains.
In northwest Georgia, schools in Catoosa County will have a two-hour delayed start on Thursday because of temperatures expected to top out at 27 degrees and dip as low as minus 2 degrees with wind chills.
School officials have urged students to wait for buses inside or in warm cars with parents, and have said bus drivers would make individual stops at students' homes and blow their horns if necessary.
Among the many cities modifying school schedules is Detroit, where it was 3 degrees early on Thursday.
Students got the day off Thursday at Detroit Public Schools, the state's largest district, and at many other districts around Michigan.
In New York, most of the school delays Thursday morning are in the state's eastern half, from the Syracuse area to the Adirondacks, Albany area and Hudson Valley.
Pre-dawn low temperatures ranged from minus-23 in Saranac Lake to 6 below in Albany.
Forecasters say winds gusting to as high as 35 mph on Thursday afternoon will make it feel like 45 below in parts of northern New York. The bone-chilling cold is being accompanied by lake-effect snow in parts of western and northern New York.
Another Alberta clipper barreling down from Canada is bringing more bad winter weather to the Dakotas.
The National Weather Service has posted a variety of blizzard and winter weather advisories, watches and warnings for the Dakotas through Thursday.
Not a lot of snow is expected, but winds gusting to 50 mph will blow around the snow that's on the ground.
In Minnesota, forecasters expect blizzard conditions to develop in a portion of the River Valley.
Weather officials say wind gusts of 40 to 50 mph combined with fresh snow will significantly reduce visibility, especially in open, rural areas.
A blizzard warning was posted in an area from Granite Falls southeast to Mankato and Albert Lea.
Many cities experiencing cold weather have opened warming stations for residents lacking heat. But extra care is being taken to protect the homeless.
In New Jersey, some officials have empowered law enforcement to move homeless people off the streets and into shelters.
Blankets were being given out at some of the 15 small tent cities around Huntsville, Alabama. Workers from a nonprofit organization there encouraged residents of the encampments to come inside. Some people planned to stay at a church that was opening as a shelter.
'We've got snow flurries as the temperatures continue to drop so they're coming in,' said Clete Wetli, executive director of First Stop Inc., which provides transportation, mental health counseling and other services to the homeless.
'The last thing we want is for someone to get hypothermia or die of frostbite.'
Officials in Ohio and Georgia warned residents never to use their kitchen ovens or stoves to heat their homes. It could prove deadly.
Temperatures were expected to drop to zero or below in southern New England and to 7 above in New York City, with wind chills getting into the minus-20s in some places. But little or no snow is forecast for most of the Northeast.
Around this time last year, parts of the region were digging out from 2 feet of snow accompanied by brutal polar air.
In fact, this season's snowfall totals are way down from last year, one of the snowiest seasons on record.
Last year, Philadelphia, New York and Boston all got around 5 feet of snow from December through February, or about 1.5 to 2.5 feet more than normal. This year, they've seen only a few inches of snow since December 1.
But then there's western New York. The Buffalo area got slammed with more than 7 feet of snow in November and saw another foot on Tuesday. Thursday night and Friday could bring another 5 inches to 10 inches, weather forecasters say.
Meanwhile in Arizona, Phoenix posted a record high temperature of 80 degrees on Wednesday. That broke the old record of 79 set in 1948.
Over in Tempe, 74-year-old Bill Justice was wearing shorts while hanging out in his yard, just days after the National Weather Service announced that
2014 was the warmest year ever recorded in Arizona
.
'We can enjoy all kinds of things in the winter and the same thing in the summer,' Justice said, adding that if he lived in Colorado or another cold climate, his swimming pool would be frozen by now.