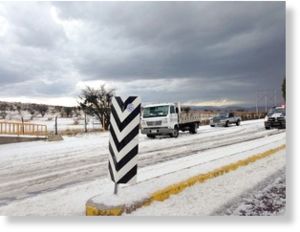 In Chihuahua, four people froze to death, three died due to burns and two more for intoxication, while in Sonora one died for intoxication in Nogales and two for hypothermia in Huatabampo and San Luis Río Colorado.
The cold weather affecting much of the country has claimed a dozen victims, nine in Chihuahua and three in Sonora, state authorities reported.
The State Coordination of Civil Protection of Chihuahua issued an alert due to low temperatures, rain and snowfall in the higher areas, specifically in the municipalities of Temósachic and Balleza,
where temperatures have dropped to -14C (6.8F).
Other regions with low temperatures are Chihuahua and Ciudad Juárez (-4C/24F), Ocampo (-10C/14F), Janos (-7C/19F) and Nuevo Casas Grandes (-6.5C/20F).
Low temperatures below zero degrees and snowfall are expected to persist in Chihuahua, Coahuila, Nuevo León and Durango.