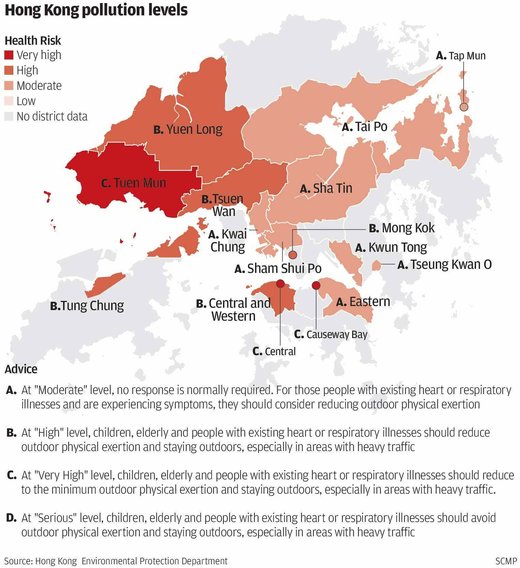 Hong Kong recorded its hottest September day in more than half a century on Tuesday as the influence of Typhoon Megi brought ­"serious" levels of air pollution to the city for a second day.
Temperatures hit a high of 36 degrees Celsius in Happy Valley as ­Taiwan felt the full force of the tropical cyclone, which is forecast to bring gloomy weather to Hong Kong over the next six days.
The Environmental Protection Department issued a warning after the Air Quality Health Index in Tuen Mun and Tung Chung hit 10+ on Tuesday afternoon, its highest level. That indicates a serious health risk.
It was the second day the city recorded such severe levels of air pollution.
The index in Central reached 10, and it climbed to nine in Yuen Long and Causeway Bay, indicating a "very high" health risk.
The department advised children, the elderly and people suffering from heart or respiratory illnesses to stay indoors as much as possible.
Typhoon Megi, named after the Korean word for catfish, made landfall in Taiwan but was ­forecast to spare Hong Kong. The storm however created stifling conditions in the city on Tuesday, with low visibility and a max­imum temperature at the Observatory's headquarters of
34.9 degrees, constituting the hottest September day since 1963
, when September 5 saw the same ­location record 35.2 degrees.