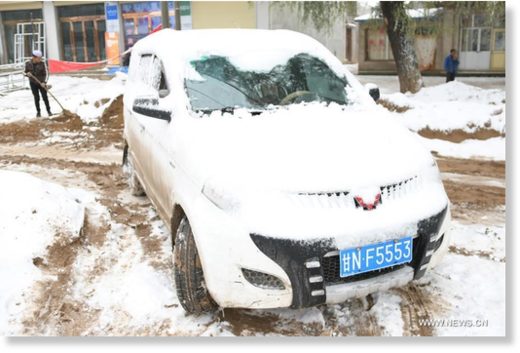 A heavy snow hit Jingtai County in northwest China's Gansu Province on Sunday and Monday, disrupting life and causing losses to farmers.
The temperature plummet by up to 10 degrees Celsius as accumulated snow reached 25 centimeters. The snow left broken tree branches on roads and disrupted the traffic.
"The sudden snow brought us much inconvenience. It covered many vehicles and makes it inconvenient for us to go out," said Zhang Yuanfang, a local resident.
The snow also left ice on several provincial highway sections as the fast-falling temperature brought dense fog that reduced visibility to less than 50 meters. It also caused huge economic losses to local farmers. One farm suffered loss of over one million yuan after more than 200 sheep were buried under the shed amid the snow.