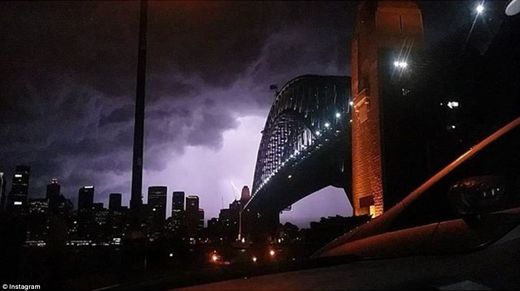 Wild and wintry weather is sweeping across Australia overnight, bringing chilly temperatures, lightning storms, frosty winds and even snow.
As temperatures plummet to its lowest in 15 years, Sydney awoke to a cityscape engulfed in thick fog on Saturday morning, which saw the Sydney Opera House and Harbour Bridge disappeared into the thick blanket of fog.
The strong cold front from the Antarctic has continued to drift through the southern and eastern coast of Australia with temperatures dropping three to seven degrees below average for five days running - the coldest spell some states have experienced in five years.
Temperatures in Brisbane are set to dip up to five degrees below the July average and snow flakes are expected to cover Eukey near the NSW border.
By Sunday morning, temperatures in Melbourne are expected to drop five degrees, with forecasters projecting the city will be the second coldest capital in the country after Canberra. Possible snow in some of Melbourne's outer suburbs is expected with forecast to fall down to 500 metres in alpine areas.
People have been warned to batten down the hatches ahead of the worst of the storms overnight as the effects of the icy blast will be felt from Sunday and temperatures are expected to remain chilly until Friday.