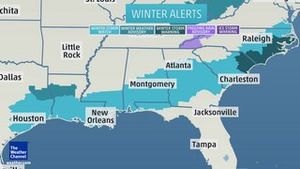 We are watching for a potentially major winter storm to affect a long swath of the Deep South this week - including places better known for their beaches, balmy breezes and hurricanes. This will include some of the areas affected by
Winter Storm Kronos
just last week - but it includes millions of people farther east as well.
The threat stems from the combination of a bitterly cold arctic air mass plunging southward behind a sharp cold front, while moisture streams northward from the Gulf Coast. As the moisture crosses into the cold air behind the front, a swath of frozen and freezing precipitation is likely to break out.
The National Weather Service has issued winter storm watches, warnings and advisories from southeast Texas eastward along the Gulf Coast through Georgia, the southern half of South Carolina, eastern North Carolina and far southeast Virginia. For
Charleston, S.C.
and
Savannah, Ga.
, it's the first winter storm watch issued for those two cities since Feb. 11, 2010.
For Houston
, it's the second time with a winter storm watch in just five days.
Let's step through the forecast and get into the details and uncertainties.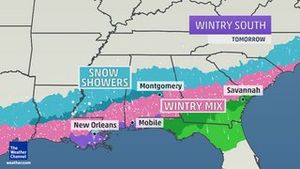 Long Stretch of Ice and Snow
The latest blast of arctic air, already bursting south into the Midwest, will reach the Deep South Monday night. Temperatures should be at or below freezing by Tuesday morning along the Gulf Coast from
Houston
to
Pensacola, Fla.,
as well as portions of the Carolina coast.
As Tuesday wears on, a broad zone of rising air will develop across the entire Gulf Coast (except for southwest Florida) and the Atlantic Coast of the Southeast, along and behind the arctic cold front. This will allow an elongated area of precipitation to develop from South Texas all the way to the Carolinas.