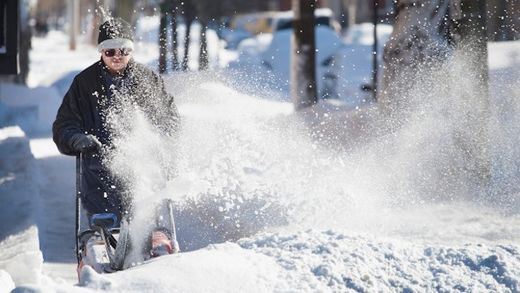 Not only was this weekend's blizzard the 5th largest snowstorm in the city's history, it also made the past week the 8th snowiest week on record for Chicago.
According to the National Weather Service, a total of 21.3 inches of snow was measured at O'Hare from Jan. 29 through Feb. 4. Virtually all of that - 19.3 inches - came during the snowstorm that started Saturday night and ended Monday morning.
Also thanks to the blizzard, this February is already the 10th snowiest on record in Chicago, with more than three weeks left until the end of the month.
With 36.7 inches of snow so far this winter in Chicago, we've already reached the normal snowfall for the entire average winter season in Chicago, meaning - despite no measurable snow in December - Chicago is virtually assured of having above normal snowfall this winter.
There will be a nice break from the snow during the next couple days. CBS 2 Meteorologist Megan Glaros reports no precipitation is expected for the next 24 to 48 hours.
While Thursday is the first time in the past eight days that Chicago won't get any snow, temperatures plunged below zero overnight.
Shortly before 8 a.m., the temperature dipped to 2 below zero at O'Hare International Airport, with a wind chill of 10 below.
It was even colder in some outlying suburbs, Thursday morning, with temperatures of as low as 14 below in Kankakee, and 16 below in Aurora.
The frigid conditions won't last long though. While Thursday's high will be only about 16 degrees, temperatures will return closer to normal the next several days, with a high of 32 on Friday, 35 on Saturday, and 32 on Sunday. Next week will start about the same, with highs in the upper 20s or lower 30s through Wednesday.