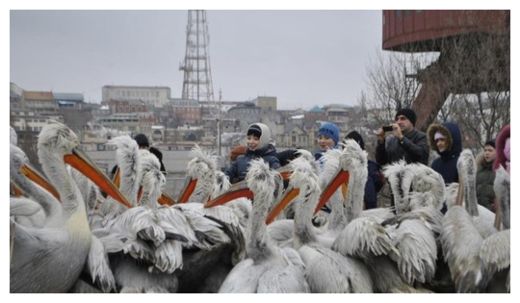 Rare Dalmatian pelicans, a threatened species, are dying of cold and hunger amid freezing weather in Russia's usually warm Dagestan, where the birds are currently wintering.
Temperatures of minus 20-30 degrees Celsius have swept Russia's southern latitudes, coating the Caspian Sea in a thick layer of sea ice. Some 500 Dalmatian pelicans out of the total population in Russia of about 1,400 were forced to take refuge at a shipyard on the Caspian Sea near Dagestan's capital Makhachkala.
According to information from the Dagestansky Nature Preserve, about 16 pelicans have died from hunger and cold on the Caspian shores of Dagestan.
An adult Dalmatian pelican requires at least 2.5 kg of fish daily, but the giant birds are unable to feed themselves from the ice-covered sea.